The ultimate Kazakh road trip: 7-10 day self-drive itinerary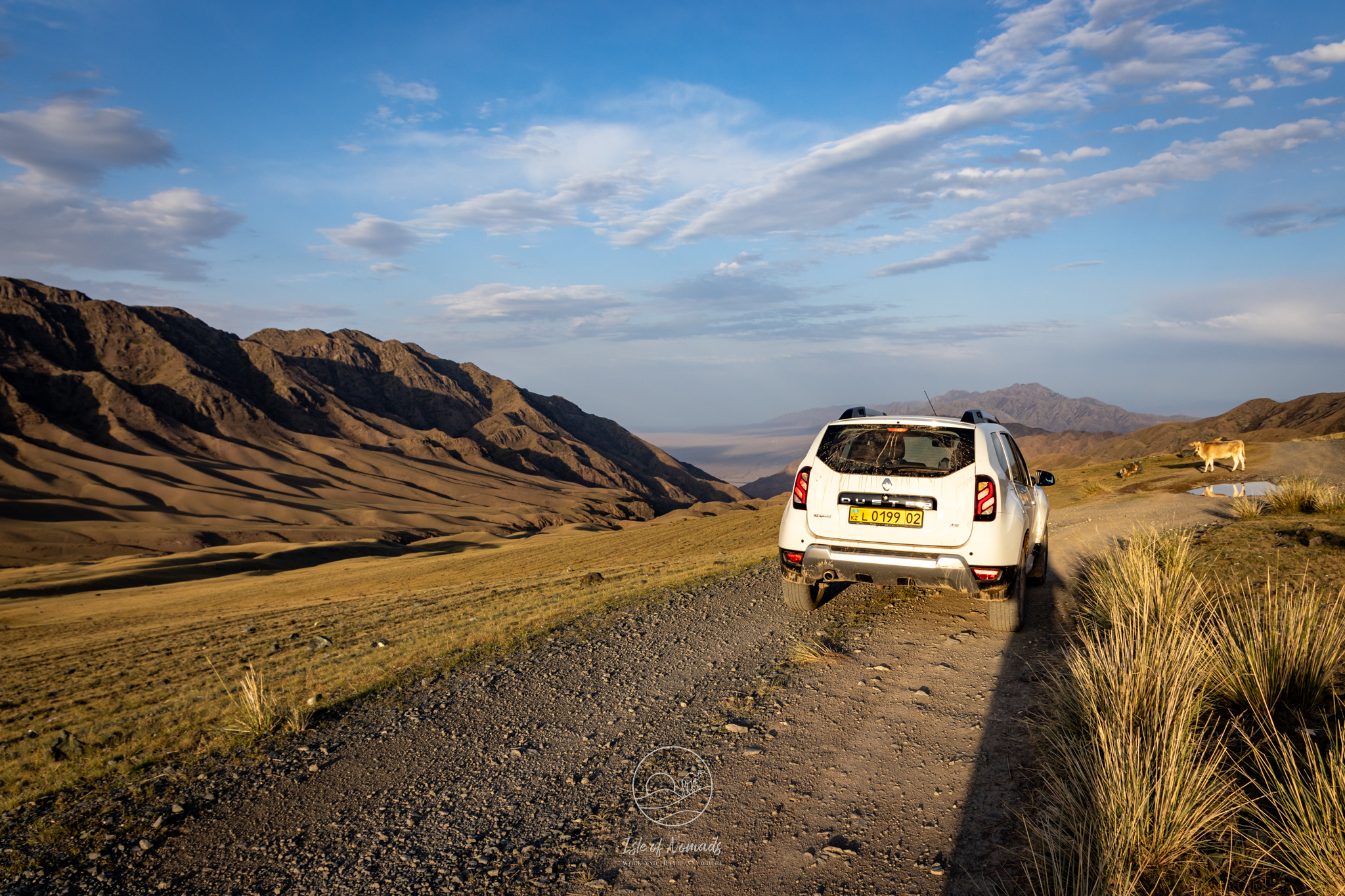 Key information at a glance
| | |
| --- | --- |
| Price for rental: | 44$/ day; 150$ deposit |
| Documents needed: | International drivers' license |
| Best time to travel: | August to October |
| For you if: | you love an adventure; you are a seasoned driver |
| Not for you if: | driving offroad scares you, you give up if you fail to get up a hill once |
| Important Notes: | There is very scarce coverage of gas stations in Kazakhstan. If in doubt, just get gas, even if your tank is still relatively full. Also see the list of important notes in this article. :-) |
Where

to rent your car

The extensive research we did before renting our car in Almaty led us to believe it's incredibly difficult to both find a good rental company and to actually rent a car in Kazakhstan. Fortunately, this did not dissuade us, and in our case, the worries we had did not turn out to be warranted. There is some paperwork you need to fill out before renting (see below), but this is quite straightforward, and we had a great experience with our car rental agency.

We rented our car with Vladex car rental and were very happy with them. They took a lot of time explaining both the car and what to watch out for on the road. When you inquire with them in English, you will likely speak to Nick - he was our main point of contact and super responsive throughout our drive when we texted him with questions.

Don't be discouraged by the shady-looking building they are located in. When picking up our car, we were a bit surprised to find the rental company to be located in an old building above a run-down looking hostel. However, the experience was completely positive (even though we even damaged the car a bit, see below).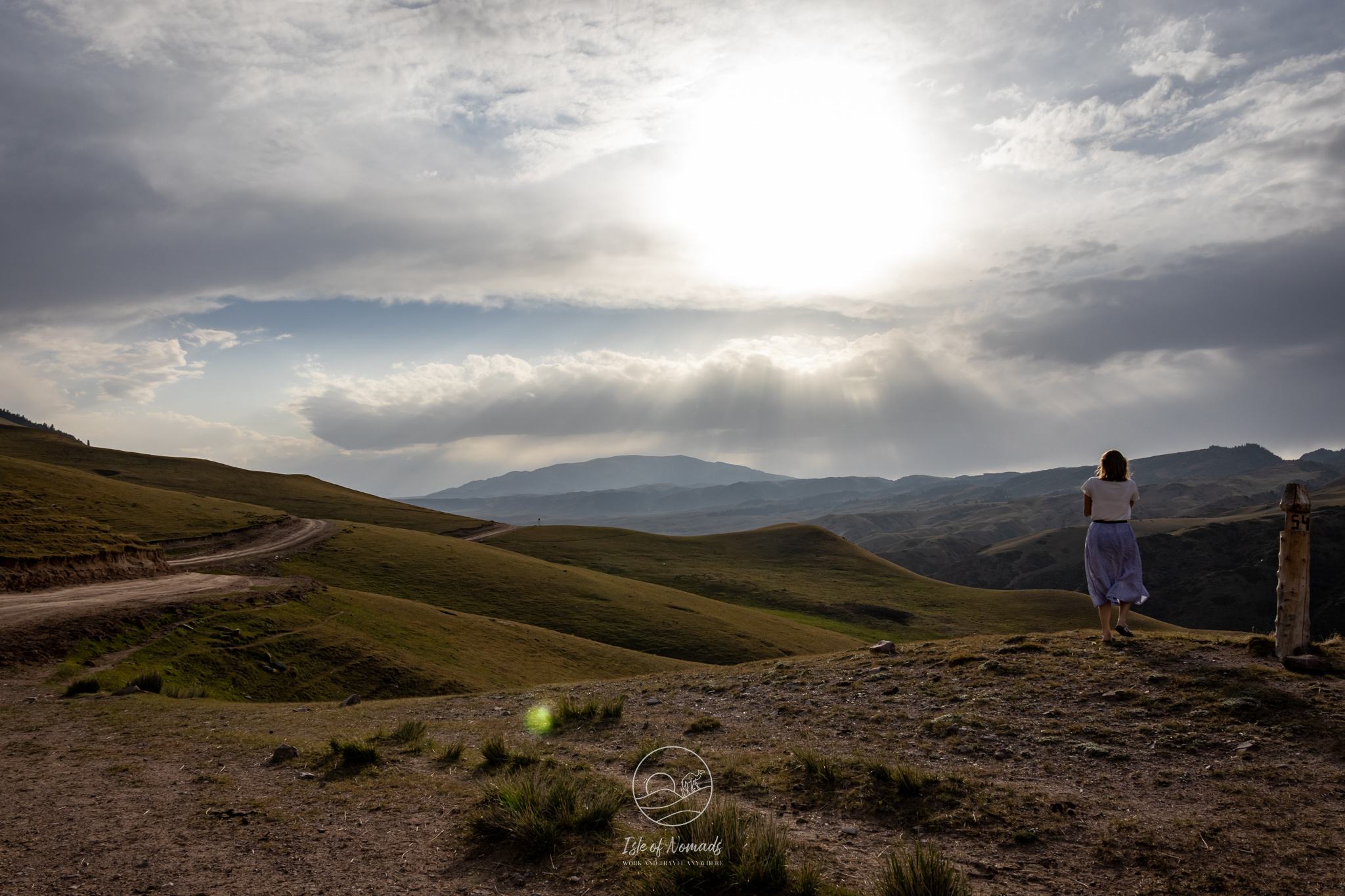 Before renting the car, you have to send in pictures of your passport and driving licence. The contract as well as additional documents will be ready when you pick up the car. When we arrived for pick-up, Nick went over the whole contract with us in great detail.
Which

car to rent

For the complete proposed itinerary, you need a 4x4. Inside Altyn Emel National Park, we recommend a 4x4 due to comfort, but the roads on the Assy plateau cannot be done without a 4x4. We rented a Renault Duster (a cheaper model of a 4x4) and needed three tries to climb one of the crevasses we encountered on the plateau.

Fortunately, 4x4s are relatively affordable in Kazakhstan. We paid 19'000 tenge/day (ca. 38 EUR; 44 USD) for a Renault Duster 4x4, inclusive of full insurance, except damage to tyres and windshields). We actually ended up damaging a tyre and paid a reasonable 3000 tenge (6EUR) to the rental agency to fix it. The deposit is 150EUR/dollars - we paid this upon pick-up and were returned the exact money we left with them upon drop-off. (You can also pay in Tenge, but we had dollars and euros with us, so just deposited this money).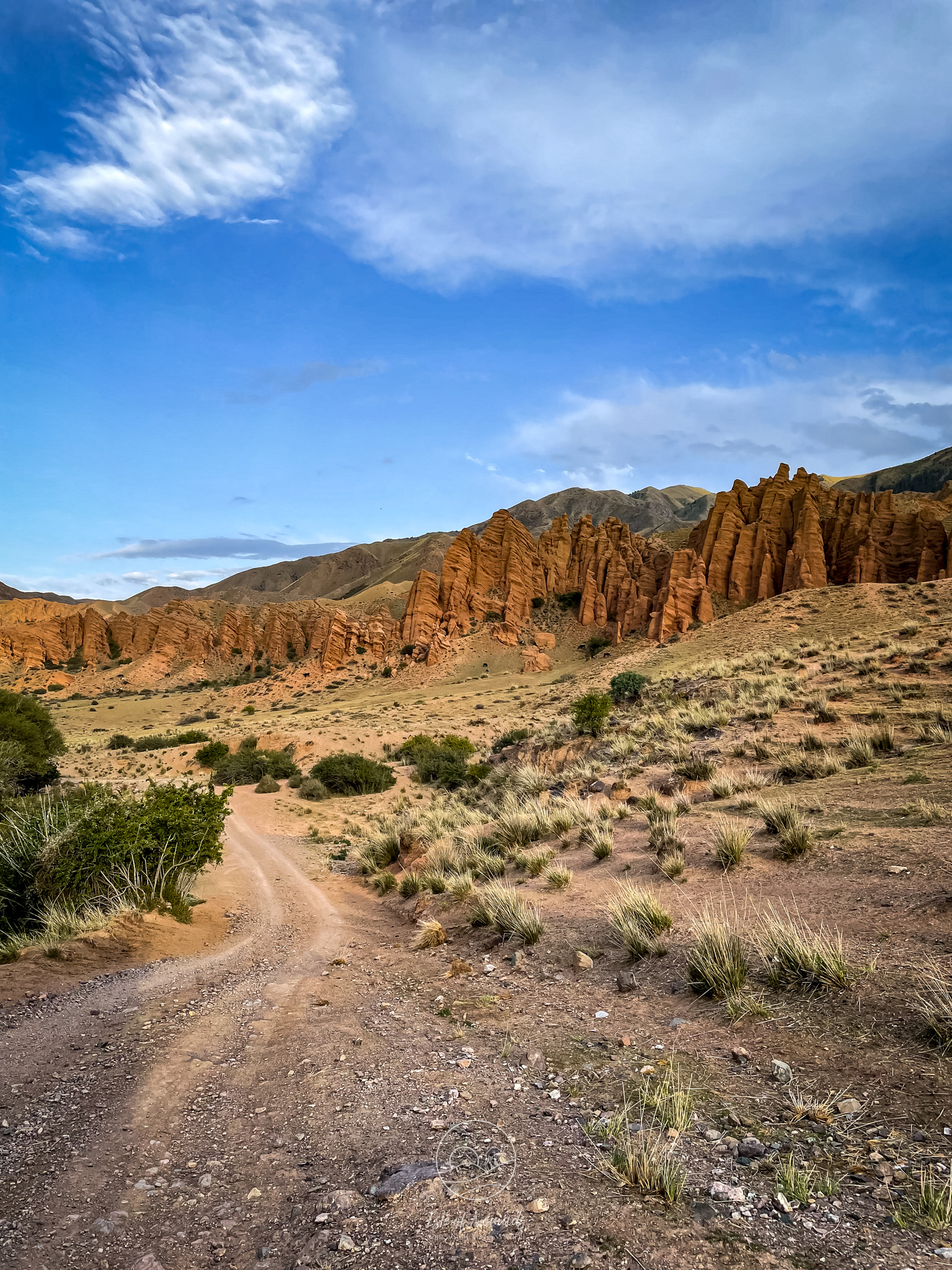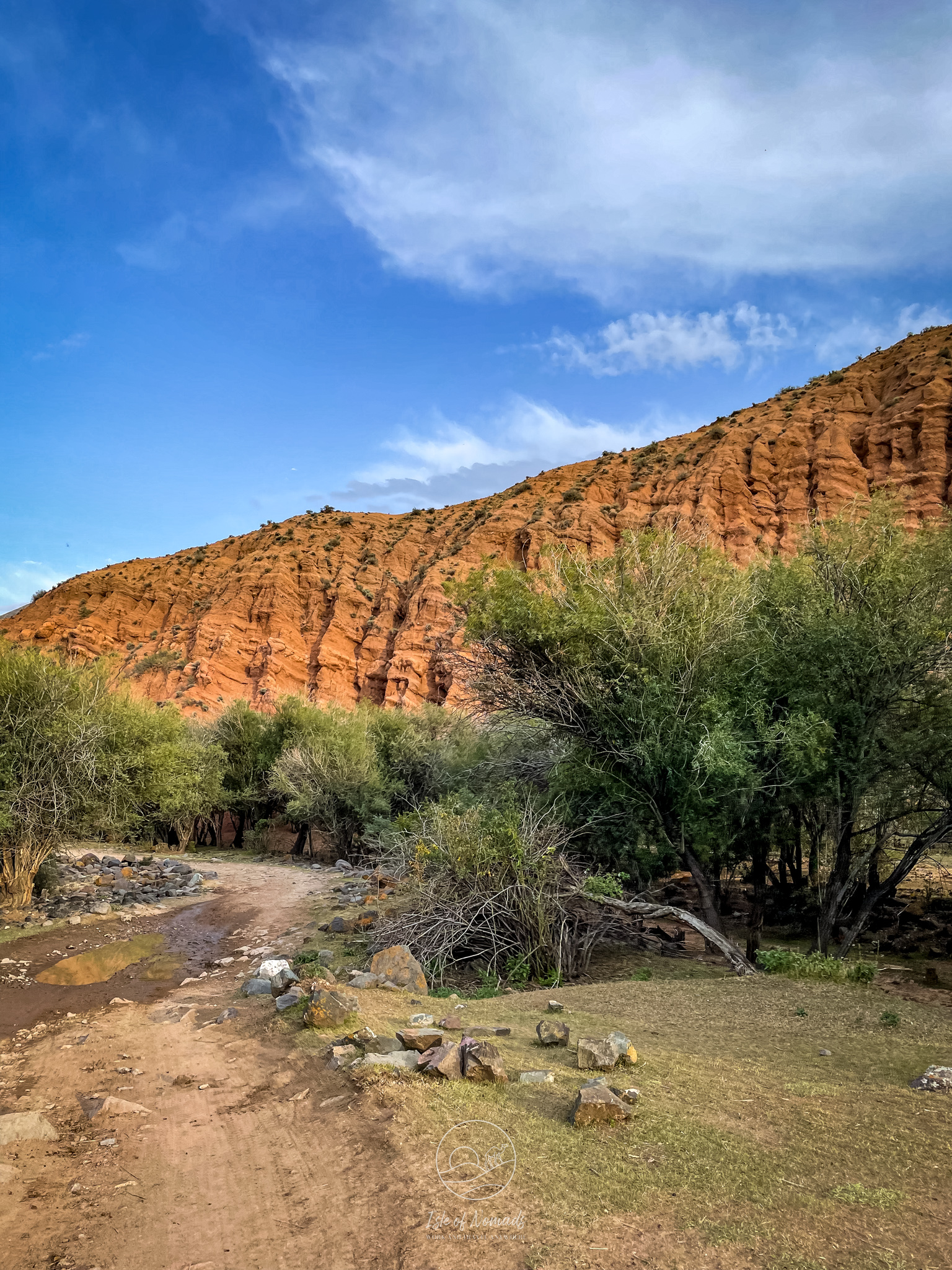 If you still do not want to rent a 4x4, you can skip the Assy Plateau and take the tarred road to Kaindy lakes instead. We think you could still visit Altyn Emel with a 2x4, however would need to drive very carefully on the sandy stretches and the rugged parts of the road.
Know

before you drive

Here's a small list of must knows before driving in Kazakhstan:
Unfortunately, corruption is still widespread in Kazakhstan. Our car rental agency warned us that when stopped, we would likely have to pay a bribe to be able to continue driving. However, we were very lucky and did not have any encounters with police during our self-drive trip. If you rent with Vladex, Nick will offer that you can call him in case you get stopped by the police. He said that this will not remove the bribe, but it will considerably lower it.
There is very scarce coverage of gas stations in Kazakhstan. If in doubt, just get gas, even if your tank is still relatively full. We included when to get gas in the below itinerary (based on our fuel consumption of two people in a Renault Duster, adjust accordingly!). The car rental agency will likely ask you to get 95, but this can be very difficult to obtain. Go for 92 instead if you do not find 95 - we made sure with Vladex that this is fine :-)
The conditions of many of the roads you will drive is not good. There is an abundance of potholes even on the highways - there can be a stretch of nice tarmac that turns into a sea of holes if you only turn a corner. Drive carefully and always be attentive to a sudden hole in the road!
There is very bad lighting on the roads, which - combined with the abundant potholes - makes driving during the night quite challenging and even dangerous. If you can, avoid driving at night. We left the Assy Plateau quite late, ended up driving until 10pm on the road to Kaindy and did not feel good about it.
Do not speed! Speed limits are: 110 km/h on highways, 50 km/h in towns. Vladex car rental told us that if we drive 3 times over 110 they would unfortunately have to take the car from us. So, even if others go faster, don't be tempted to do the same.
Like in many countries in Central Asia, you have to be vigilant at all times when driving. Traffic rules are not always adhered to by everybody and traffic especially in larger cities can sometimes be a bit daunting. However, this is nothing to worry about if you drive carefully.
You will get a lot of documents from your rental agency that you need to have ready for inspection: general car papers, the car registration and a permission that you are allowed to drive the car from the rental company. Have these ready for inspection in case the police stops you.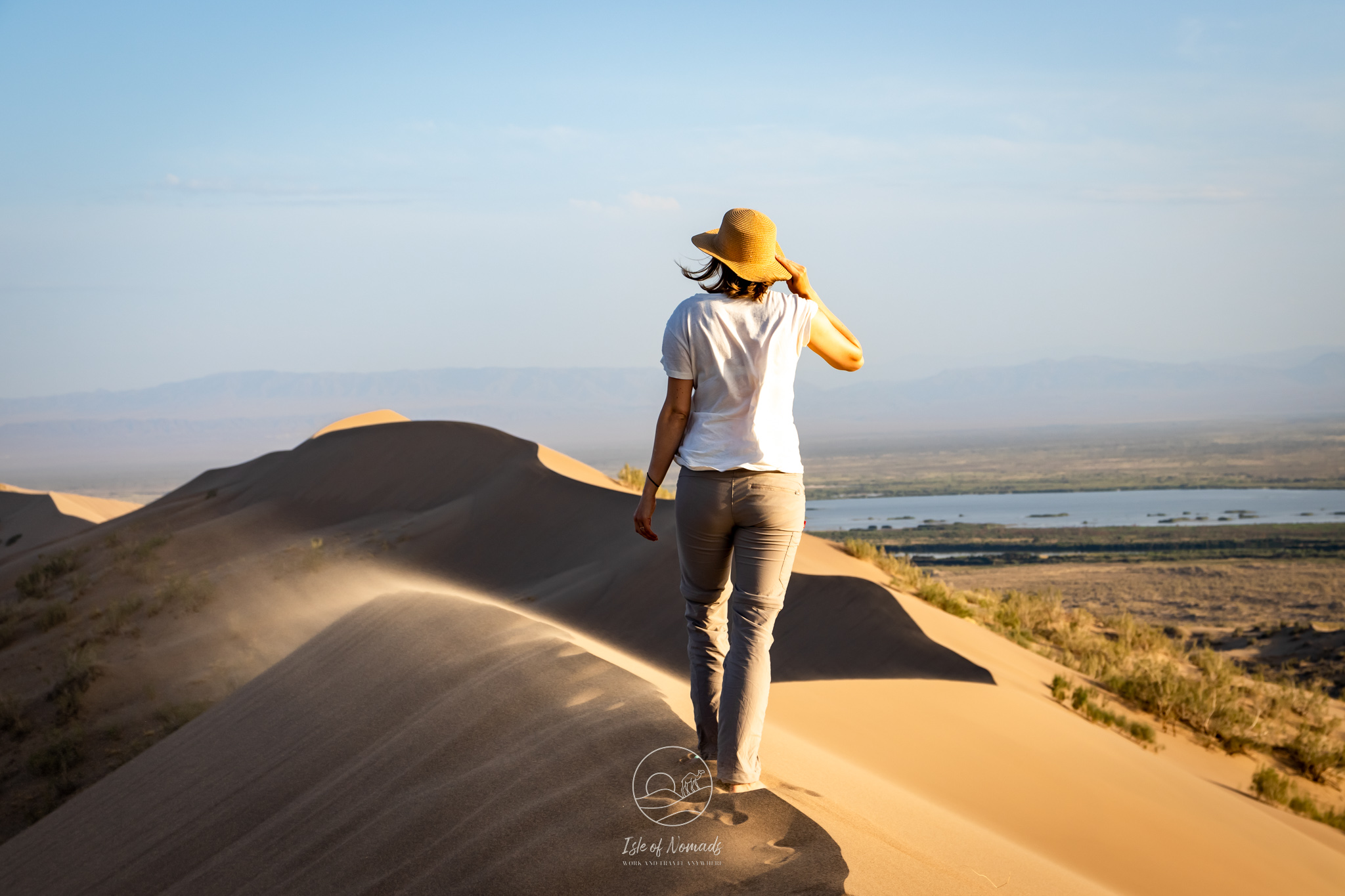 When

to go

Best time: August - October

Theoretically, you can drive this route between May and October, however we imagine that in early summer, the road conditions on the plains will be quite bad due to the melting snow and rainier weather.

If you go during the heat of summer, eg. in July, the heat in both Charyn Canyon and Altyn Emel will be quite intense. Even though it was hot when we went in mid-August (ca. 32°C), it was still bearable.
Full

Itinerary
Day 1: Arrive in Almaty
What to do
Settle into the city and wander around a bit. If you have some time left, take the cable car up to Koktobe and enjoy the views of the city. Head to Zenkov Cathedral and Park 28 Panfilovtsev. End you day in the Agosto Gastro Bar that is right inside the park - if the weather is good, try reserving a spot on their rooftop terrace.
Where to stay
Accommodation on a budget - Aizadas Place on AirBnB. Aizada is a true gem and was helpful far beyond our stay with her, helping us out with information on the border crossing to Kyrgyzstan as well as tipps on what to see and wehere to eat. She provides a super cute starter package as well as some souvenirs when you book her apartment!
Accommodation for a larger pocket - Opera Apart Hotel. The apartments are not only really cozy and stylish, they are also located right inside the city center so you can walk to most places and are surrounded by many great cafes and restaurants.
Where to eat
JumpinGoat Coffee: In the one week we spent in Almaty, we went here three times for breakfast. They have great options (also gluten-free ones) and the coffee is to die for.
Agosto Gastro Bar: Great food, beautiful terrace and a nice ambience make this the perfect restaurant to end your day in.
Coco Fast Food: The gluten-free burgers were the reason we went, but we came again for the great taste of their different dishes. It's fast food, but it is delicious fast food.
Korean House: Yummy Korean food just across the street from Opera Apart Hotel.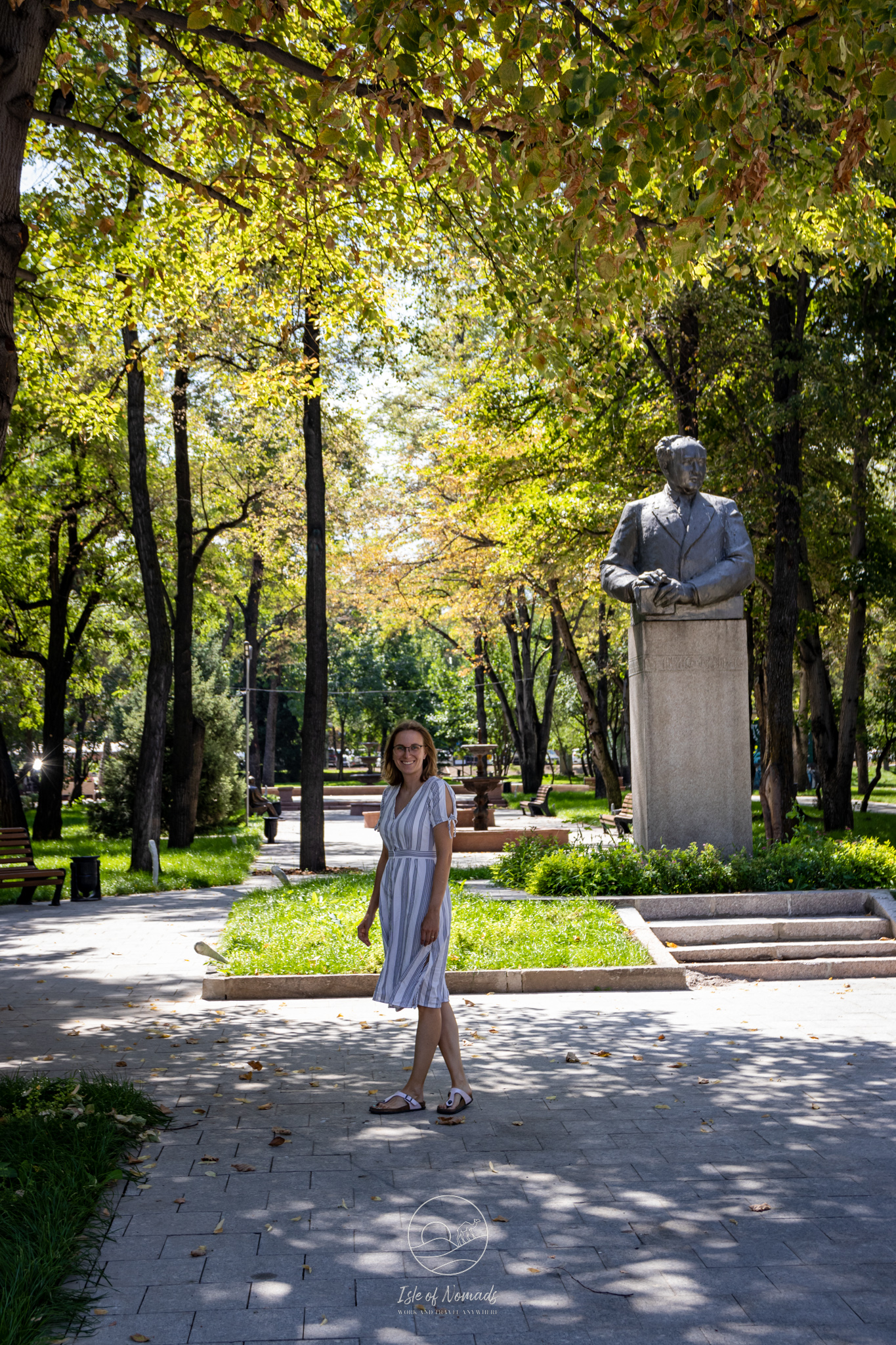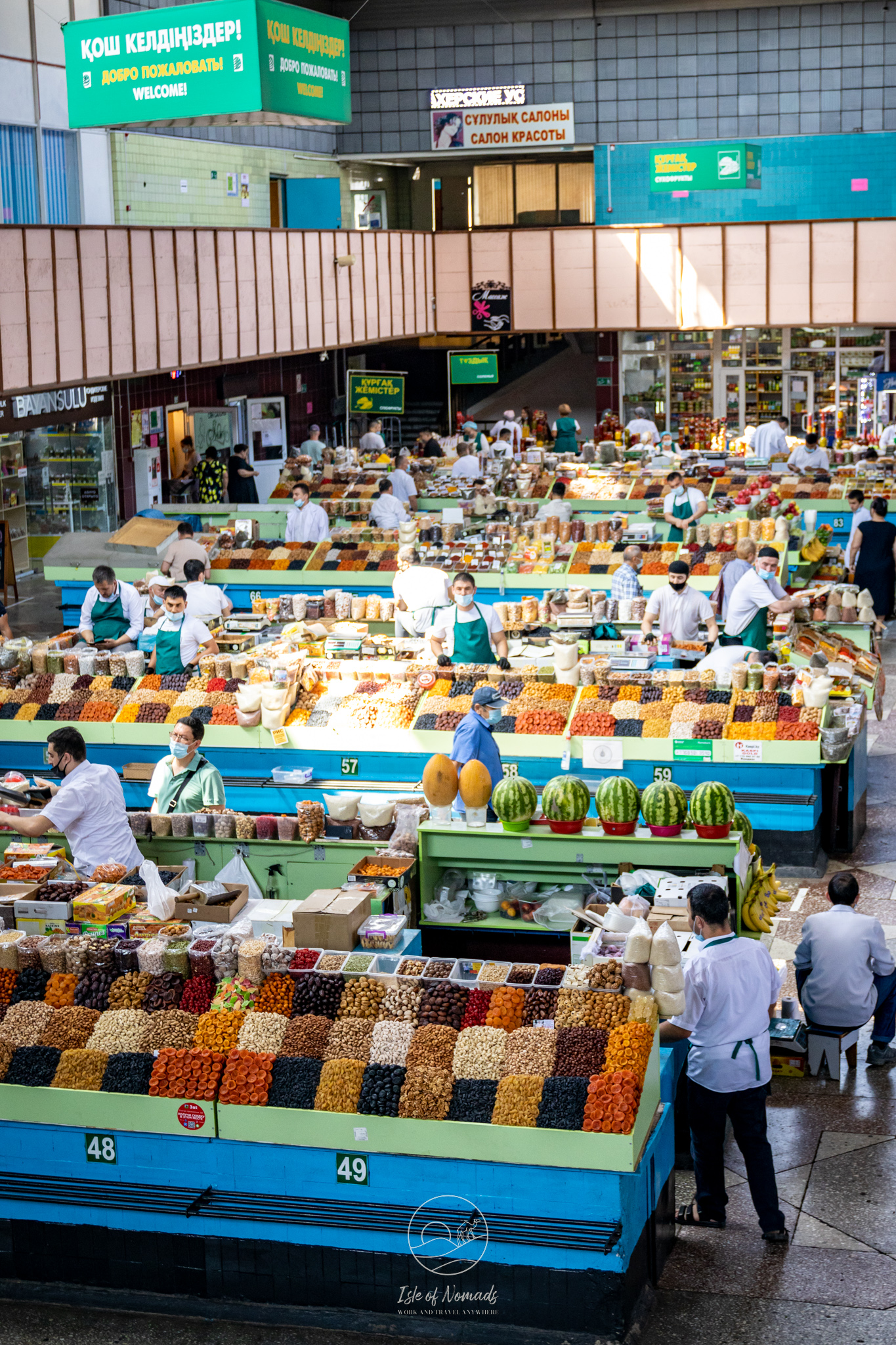 Day 2: Almaty
What to do
Sleep in and head to JumpinGoat for a late breakfast. If you have not done so yet, walk to the cable car and take it up Koktobe mountain. After this, take the bus to the Central Park and explore it for a bit. From there, you can walk to the Zelenyy bazar and look at the many stalls, maybe get a coffee at Bowler Coffee Roasters inside the Bazar - from there, you also have a great view of the Bazar.
Don't forget to stock up on snacks and water to take with you on the road trip that starts tomorrow! We bought sufficient snacks for 3-4 days' lunch as we did not want to rely on restaurants and be able to pick-nick in beautiful spots. On the main roads, you will always find fruit stalls to stack up on vitamins!
If you feel like it, catch a performance at the Abay Kazakh State Academic Opera and Ballet - their current program can be found on their website.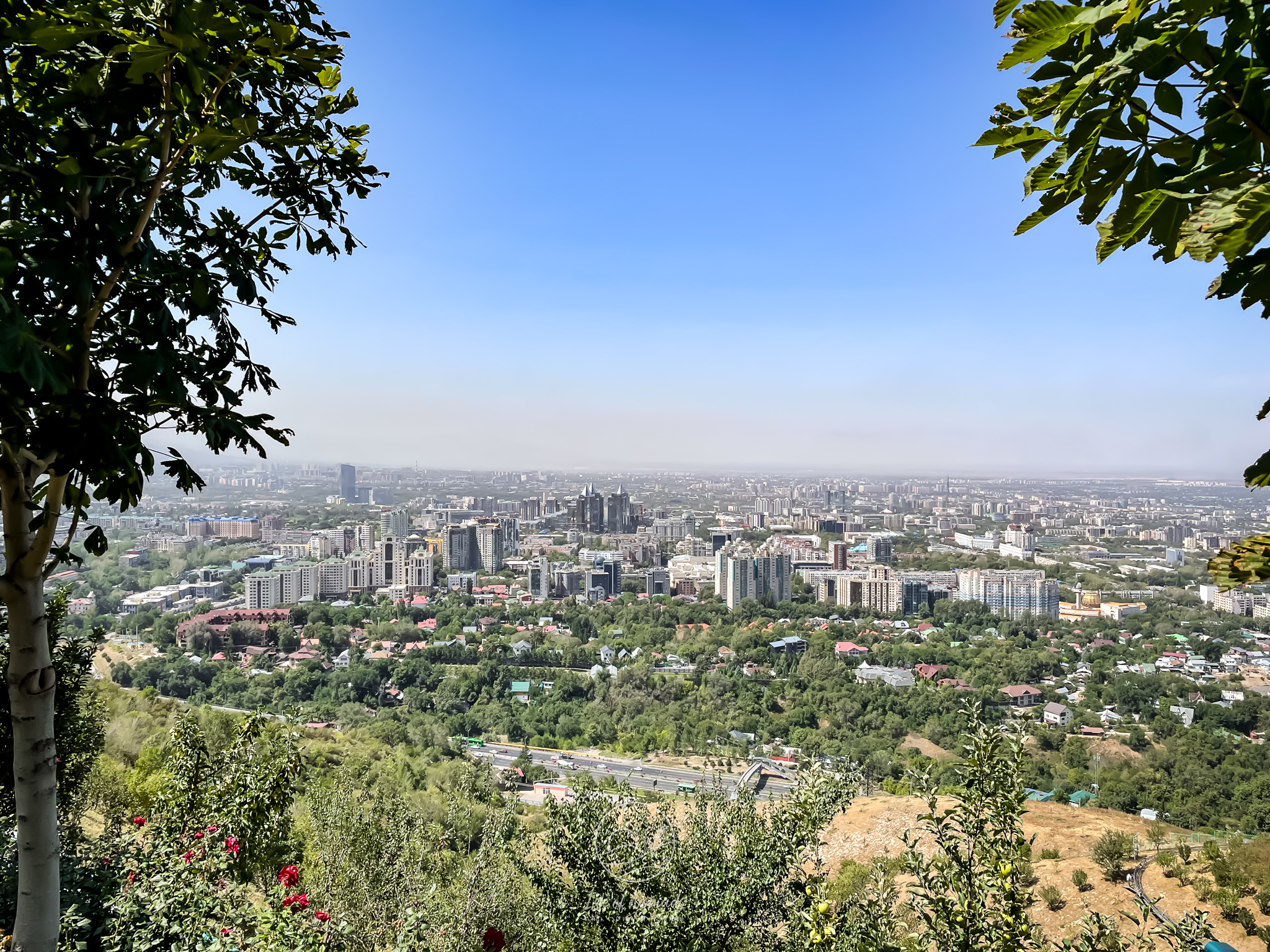 Day 3: From Almaty to Gorge Turgen
What to do
In the morning, eat breakfast, pick up your car and make the 2 hour drive from Almaty to Gorge Turgen. Make sure to get gas at Batan - after this, there will be no more gas stations for a while. At the entrance to the Gorge Turgen national park, you have to pay 400 tenge park fee for the car, 200 for each person traveling (as of 2021). Park your car at the entry to the Kairak waterfall hike and make the 4 hour hike to the waterfalls, have pick-nick on the way. Drive to your guesthouse and spend the night there. Head over to Caravanistan for more info on the hike and the national park.
Where to stay
Accommodation is limited. There are two options, if you do not have your own tent: Turgen Dacha and Этно Аул Тумар
Where to eat
The dinner for this day and breakfast for the next will be included in your guesthouse.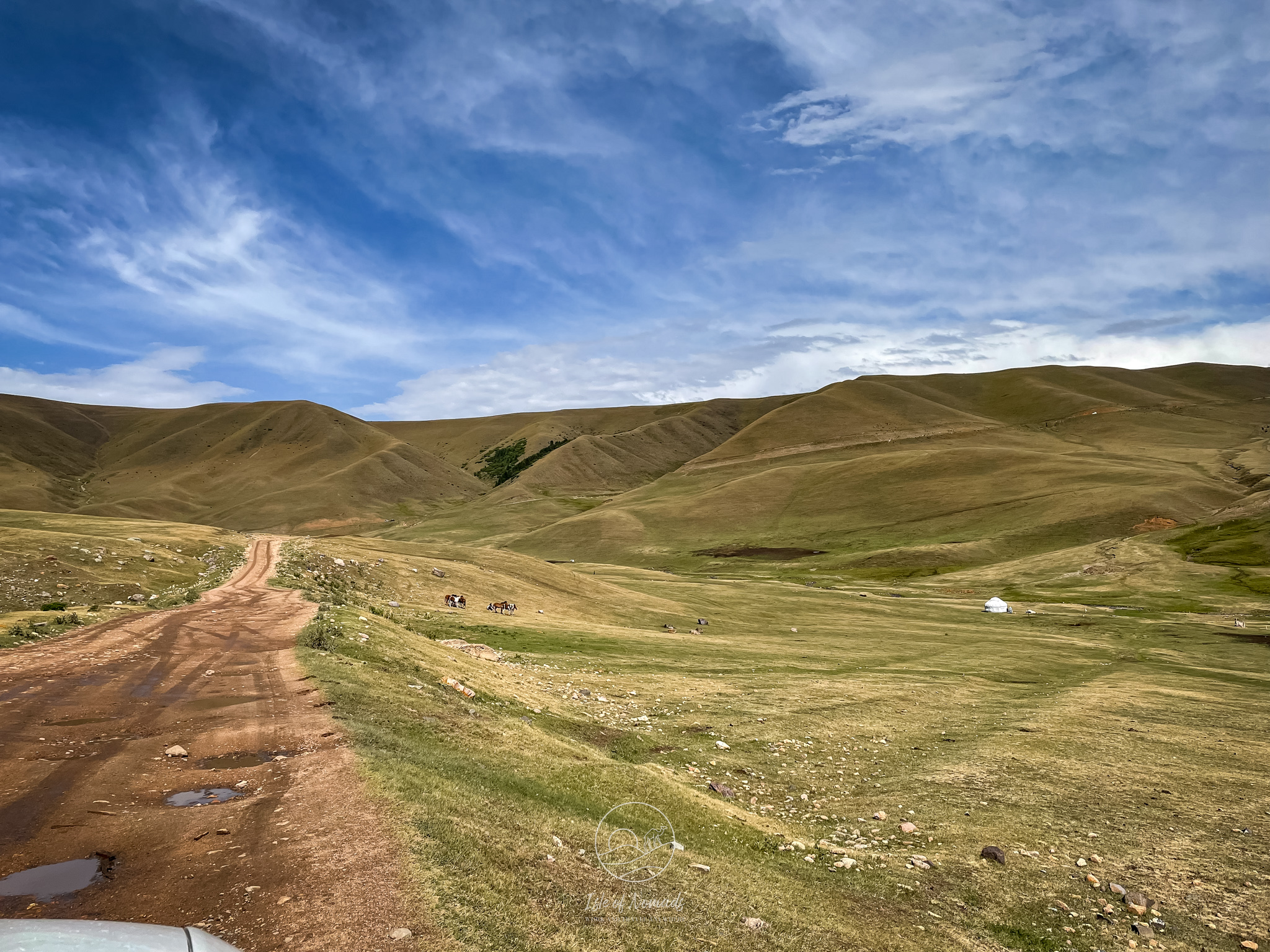 Day 4: Assy Plateau to Kaindy
What to do
This is a gorgeous, but intense driving day. Get up early to allow plenty of time for the long drive over the Assy Plateau to Kaindy. If you drive non-stop, this route should take you around 6-7 hours, however you will want to stop for pictures often :-) Lunch will be a picnic on the plains. Once you reach Turgen, make sure to fill up on gas (there is only 92).
Where to stay
There are quite a few guesthouses in Kaindy, but be prepared for basic accommodation. That being said, the hosts are always very warm and friendly, and albeit they might not speak English, they will go out of their way to help you if needed and to make your stay comfortable. We booked by writing to the numbers we found on Google Maps via WhatsApp, that works much better than booking.com that only has a few options and takes a cut from the guesthouses: Gostevoy Dom Zhuldyz-1
Gostevoy Dom Temirkhana Umbetaliyeva
Where to eat
Lunch on the plains, dinner will be included in your guesthouses nightly rate.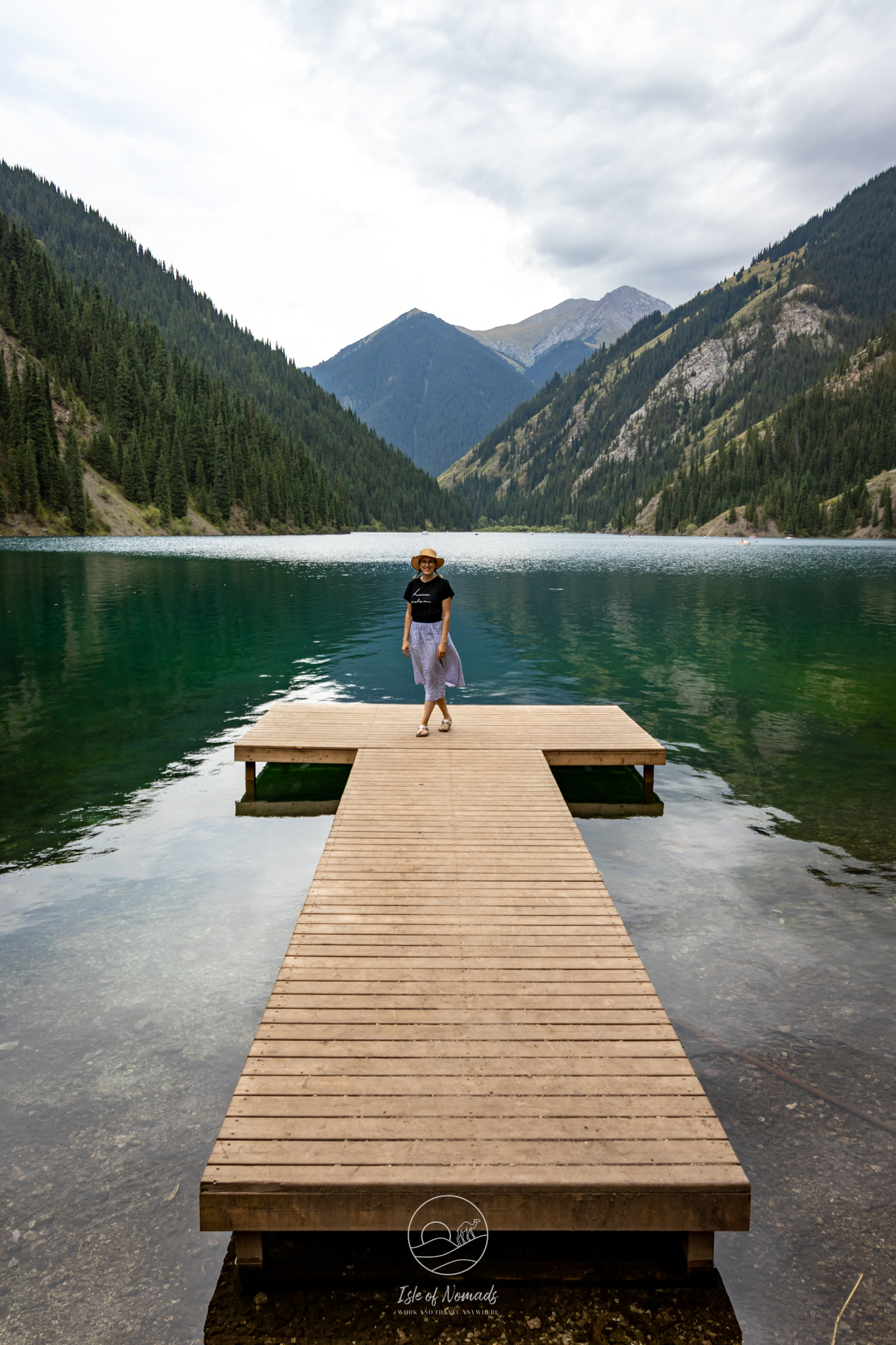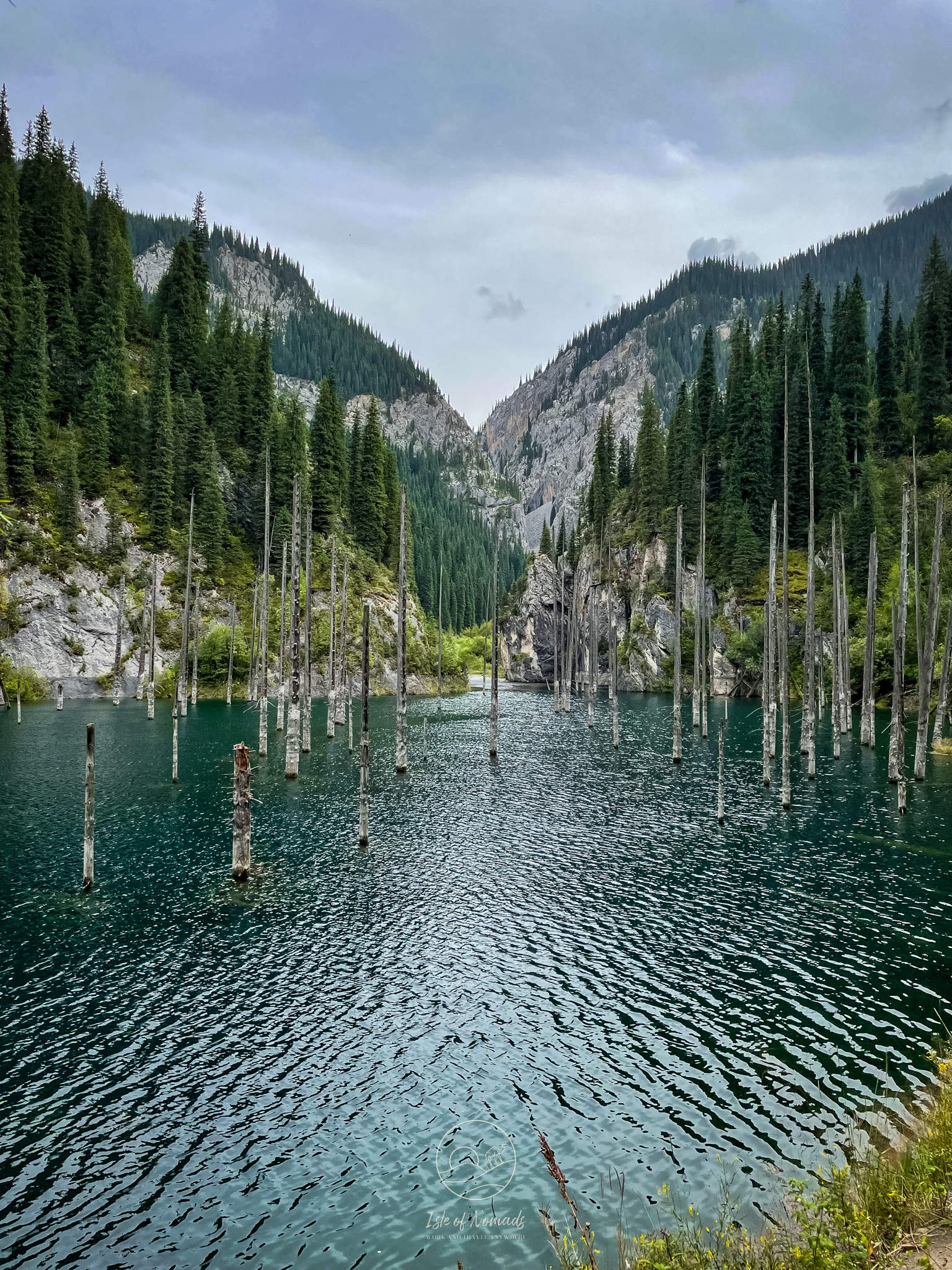 Day 5: Kolsai and Kaindy lakes
What to do
Visit Kaindy and Kolsai lakes! If you rented a 4x4, you can drive the road to the sunken forest of Kaindy lake yourself - don't attempt it with a 2x4, there is a river crossing and we saw one car get stuck there! At the entrance to the lake you will need to pay an entrance fee - 400 per vehicle, 800 per person. The road to the first Kolsai lake is paved, so you can reach it without problems.
Where to eat
Take the lunch you brought to one of the lakes and enjoy it with a view, or head back to your guesthouse for a proper meal. Dinner at your guesthouse again.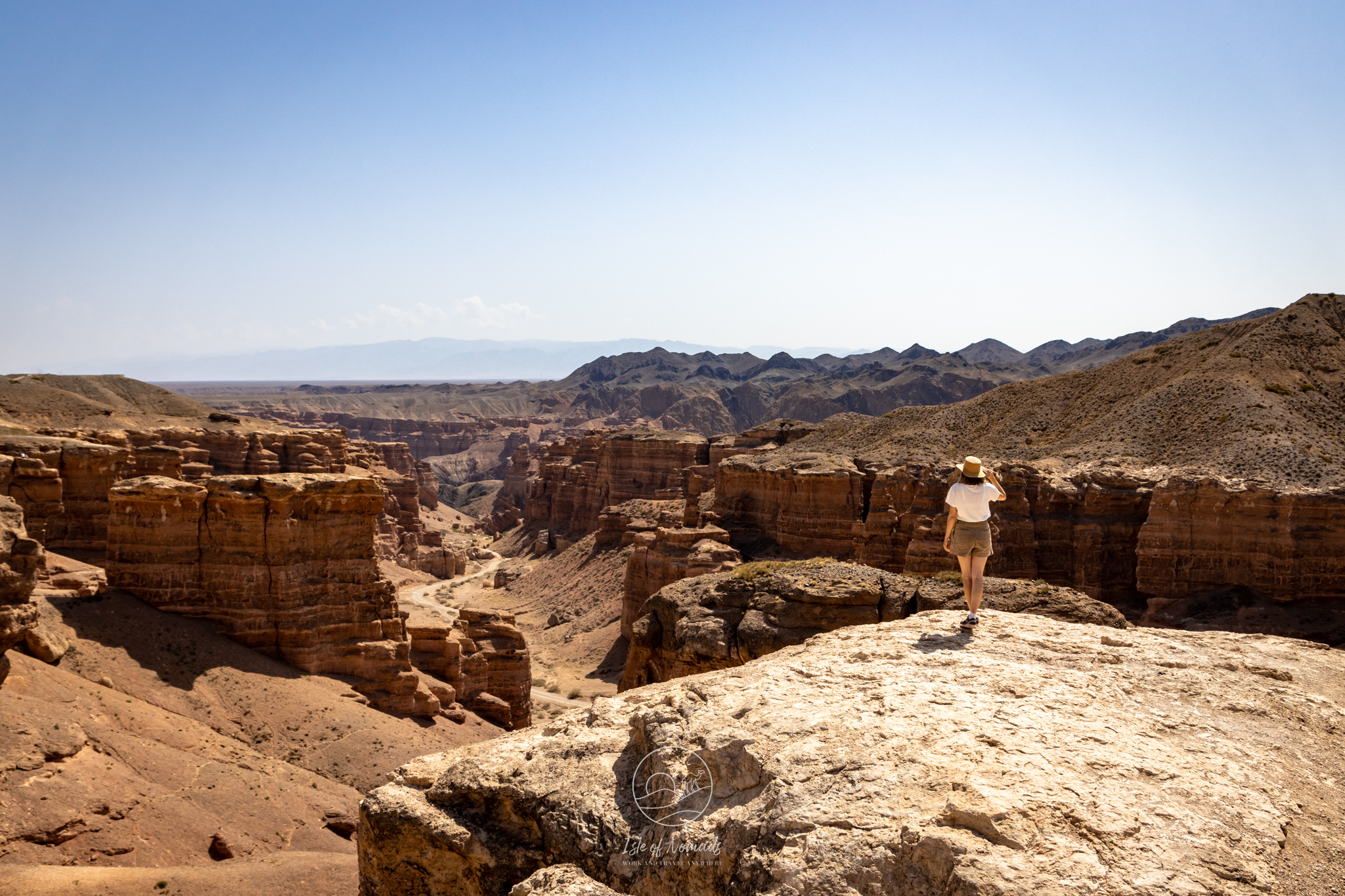 Day 6: Charyn Canyon and Singing Dune
What to do
Another early start! Drive the 2 hours to Charyn Canyon as early as possible - in summer, the heat gets more intense by the hour. We arrived at 10am and found that the day tours from Almaty started to arrive at around 11am. Hike the canyon and hit the road again - another 3 hours driving takes you to Basshi, the village at the Altyn Emel National Park. On the way, get gas (and maybe lunch?) in Chundzha. Upon arrival, check into your guesthouse in Basshi to leave your luggage, then buy head to the National park office to get your entrance pass (ask for two days so you don't have to go again tomorrow!). You should leave Basshi at around 1.5-2h before sunset to catch the golden hour on top of the dune. It takes 45min to drive to the dune. Just make sure you are back at the gate at 8pm, when the park closes! Don't miss our tips on visiting Charyn Canyon and the Singing Dune that contain all the details.
Where to stay
Options in Basshi are a bit limited. Like in Kaindy the guesthouses' hosts are going out of their way to make your stay comfortable and memorable. We stayed at Guesthouse Ardak and were very happy with our choice. Again, we recommend just contacting the guesthouses via WhatsApp.
Guest house "Ardak"
Гостиница, Hotel, Отель, Hostel
Where to eat
We brought snacks for lunch, or you can head to the Restobar Myata Mix in Chundzha. Dinner will be in your guesthouse in Basshi.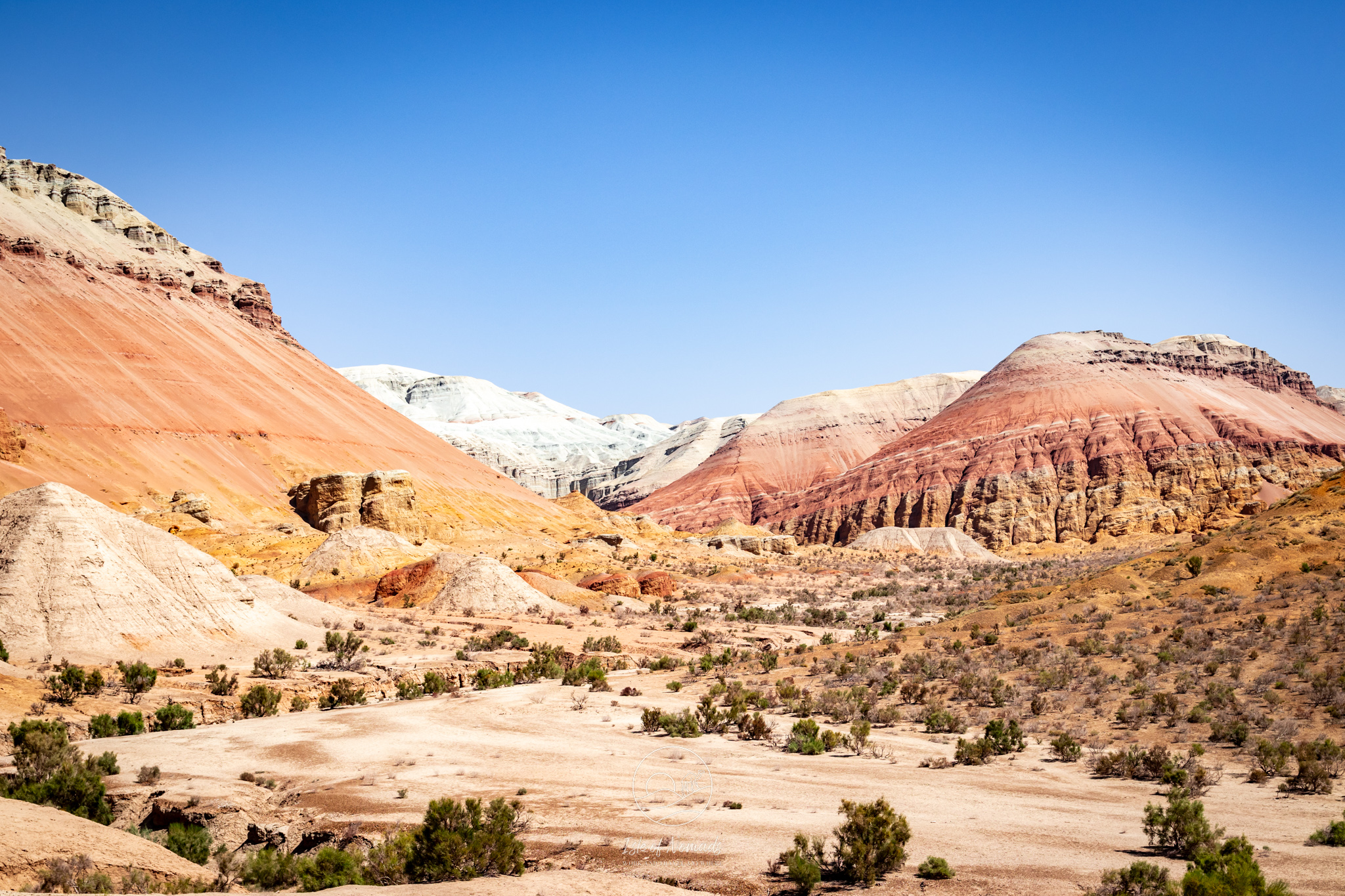 Day 7: Altyn Emel mountains and back to Almaty
What to do
Visit the Aktau mountains and, if you have time, the Katutau mountains. It takes 1.5 hours to drive one-way. There are no designated hiking paths, but you can wander around the mountains and marvel at their colours. Head back to Almaty (4 hour drive) in time to return your car in the evening.
Where to stay
Accommodation on a budget - Aizadas Place on AirBnB. Aizada is a true gem and was helpful far beyond our stay with her, helping us out with information on the border crossing to Kyrgyzstan as well as tipps on what to see and wehere to eat.
Accommodation for a larger pocket - Opera Apart Hotel. The apartments are not only really cozy and stylish, they are also located right inside the city center so you can walk to most places and are surrounded by many great cafes and restaurants.
Where to eat
There are two nice picknick spots both at Aktau and Katutau mountains, but in summer it can get really hot! Dinner is in Almaty again.
10 day version:
P.S: We know this route - and central Asia in general - is still a lesser travelled destination. So don't hesitate to reach out if you have any questions, we're happy to help!