The ultimate Uzbekistan itinerary: Discover the highlights in 10 - 14 days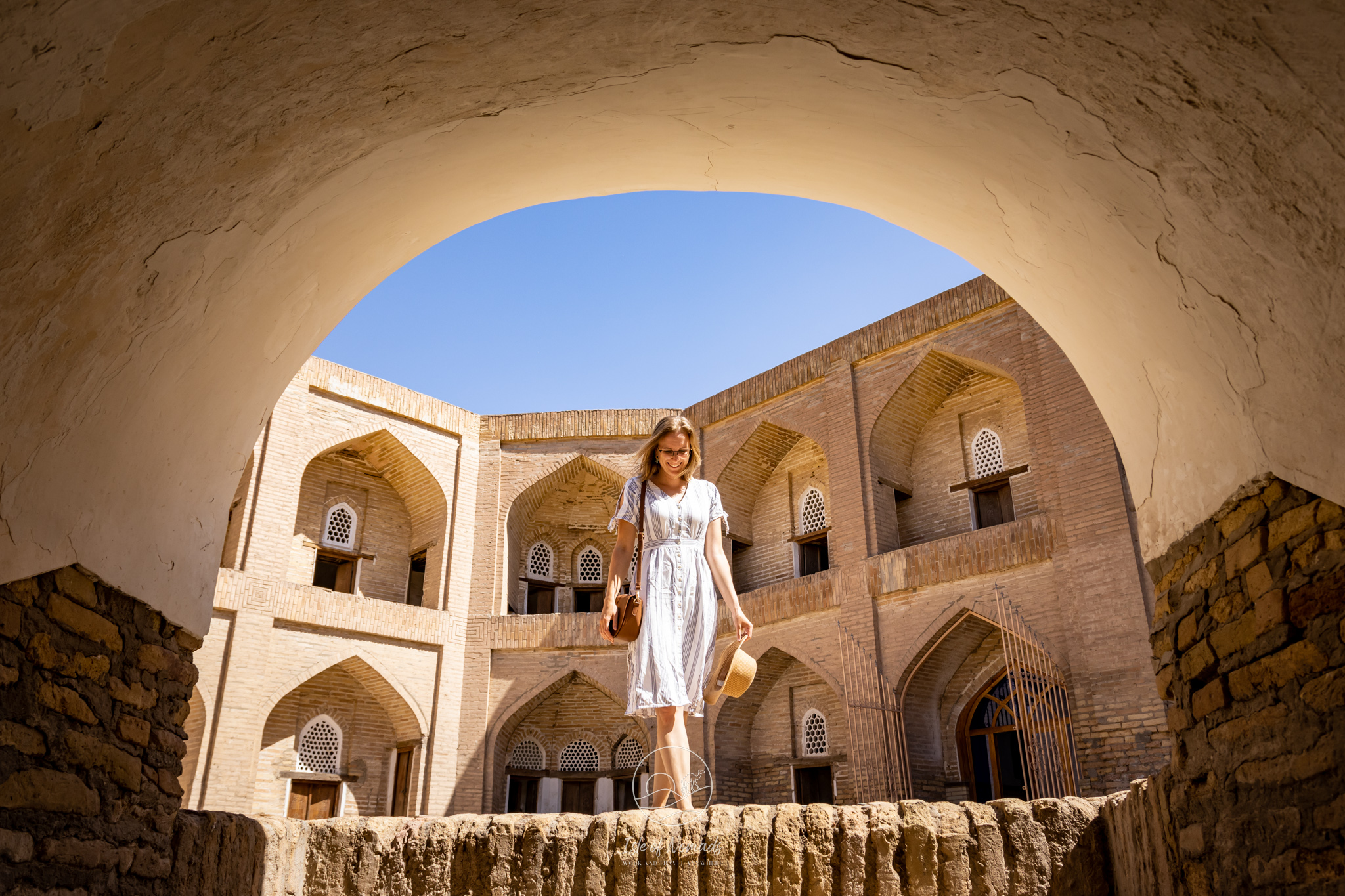 Key information at a glance
| | |
| --- | --- |
| Daily budget: | ca. 20-40 EUR/person/day |
| Itinerary length: | 10 - 14 days |
| Best time to travel: | Spring (April to May) and autumn (September to end October) |
| Top sights: | Tashkent, Samarkand, Bukhara, Khiva |
| How to get there: | Tashkent has regular flights to Europe and other parts of Asia. For instance, there is a direct flight from Frankfurt to Tashkent. |
This itinerary is both suitable for train travel as well as driving yourself or hiring a driver. Check out our article about train travel in Uzbekistan to find out more about why we recommend to do this itinerary by train and what to expect.
Day

1 & 2: Tashkent
What to do
Arrive in Tashkent on day 1 and wander around the city a bit. We suggest you wander around Chorsu Bazaar, visit the State Museum of applied Art, Ko'kaldosh Madrasasi and the Minor Mosque.
On your second day, spend the time until you catch the overnight train exploring the gorgeous Metro stations of Tashkent. They're really worth your time marvelling at the different art pieces and you can take gorgeous pictures in there. In the evening, make your way to Khiva, e.g. by taking the overnight sleeper train that leaves daily at 9PM (duration 13:58 hours, arrives in Khiva at 11AM).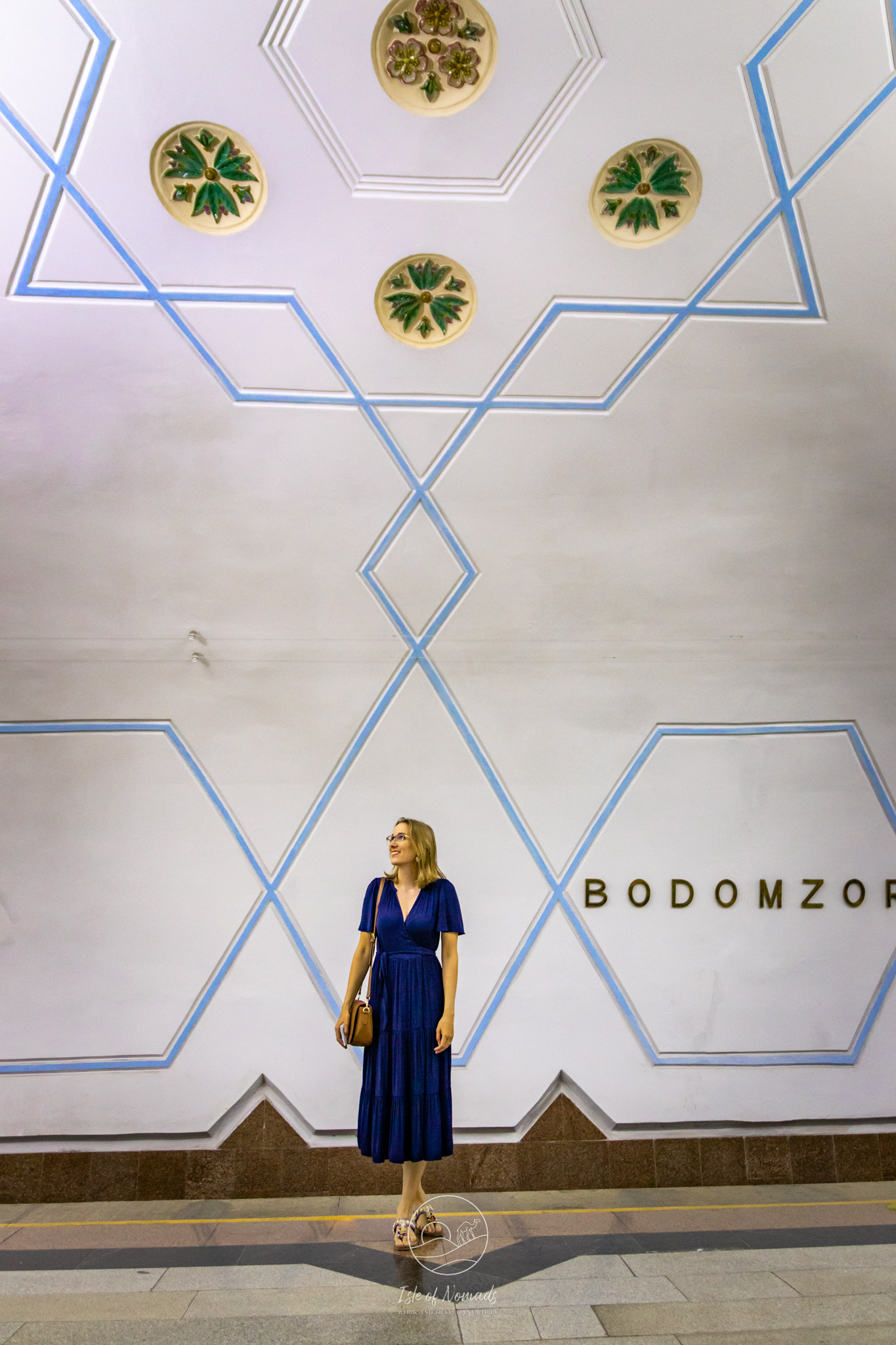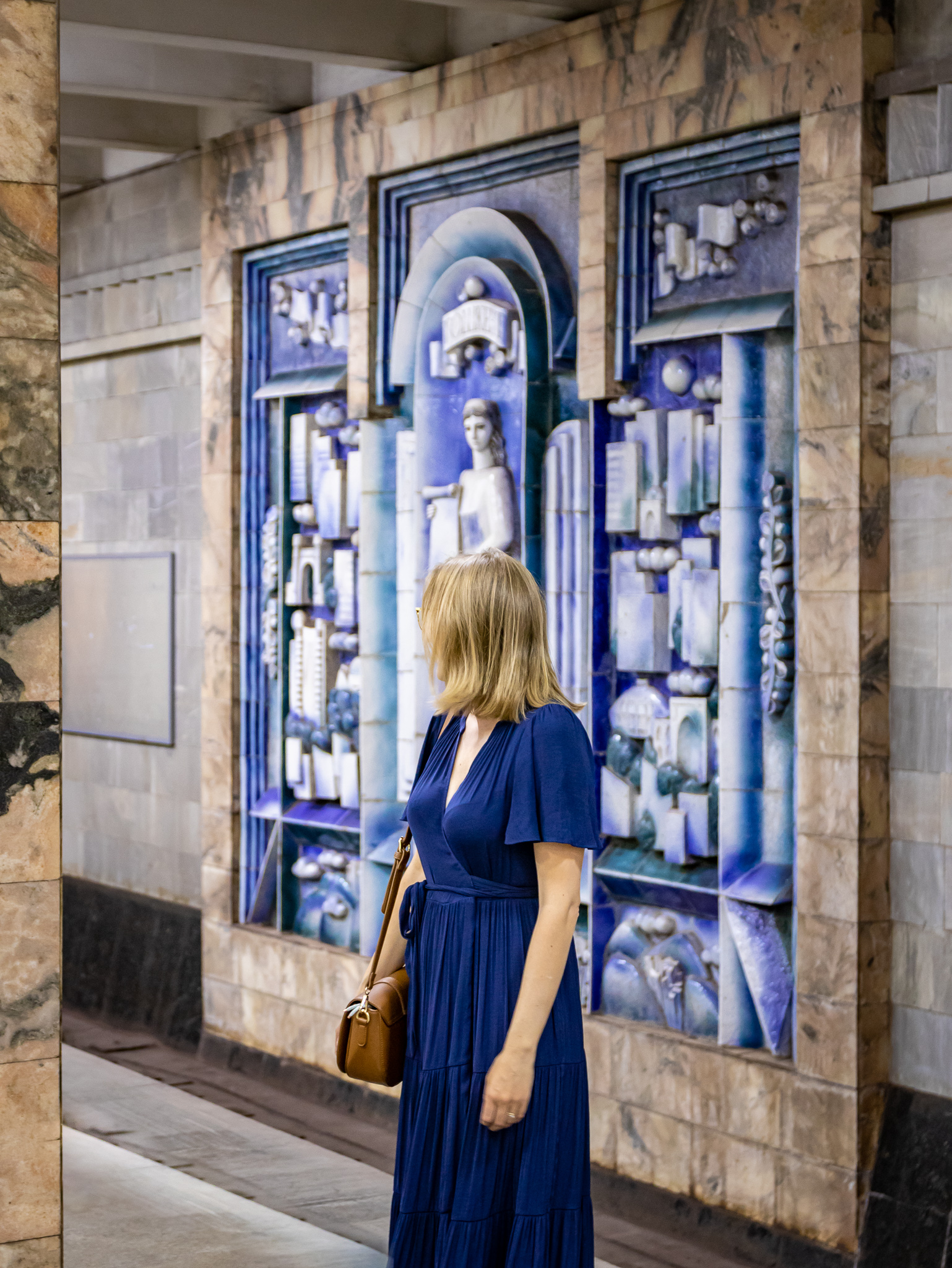 Where to eat in Tashkent
Where to stay in Tashkent
Affordable
Mid-range
Luxury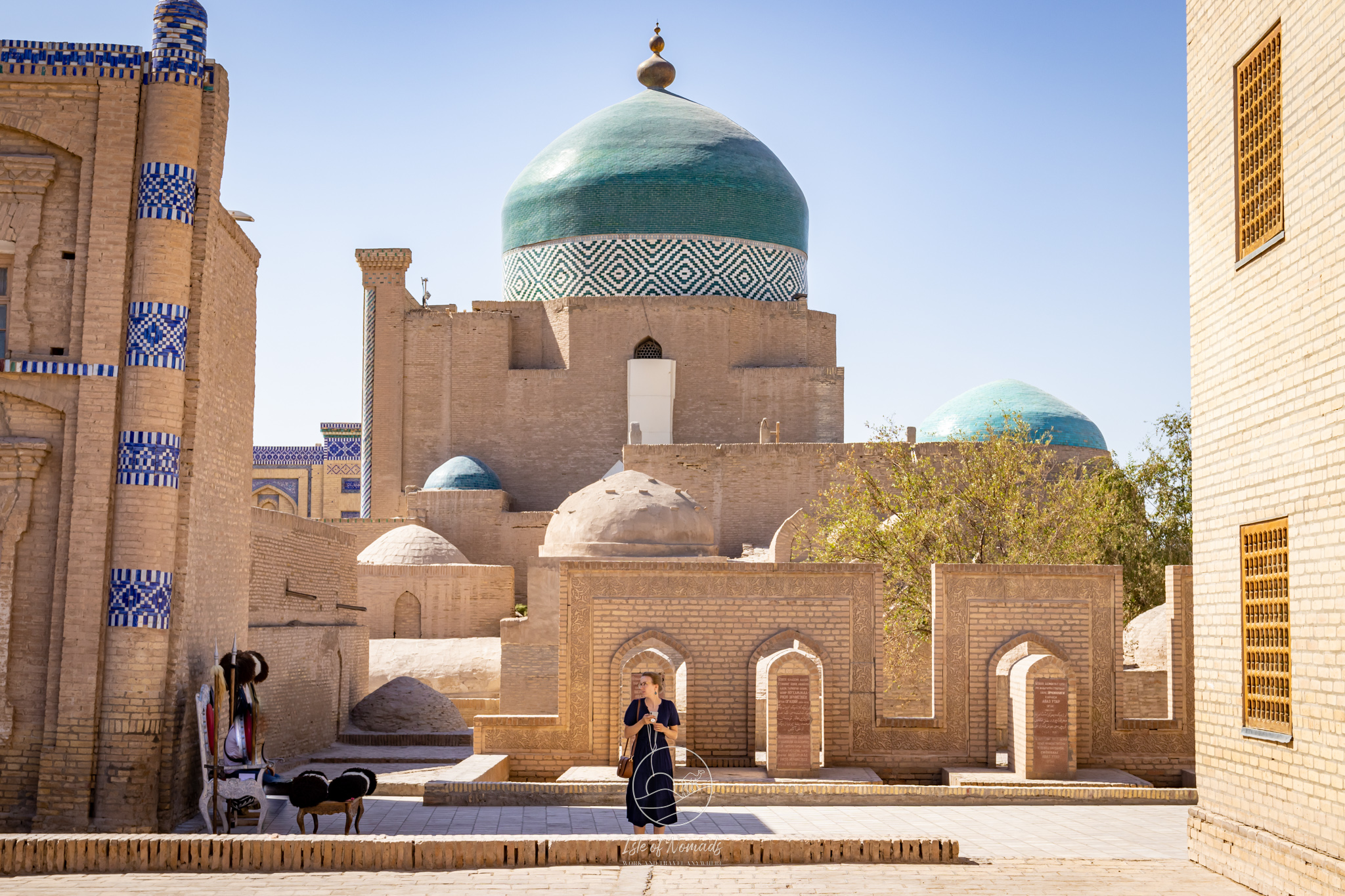 Day

3 & 4: Khiva
What to do
After you arrive in the morning, check into your hotel and head for lunch (e.g. at Terrassa Cafe). Then spend both days you have here wandering the gorgeous old town - make sure not to miss:
Pahlavan Mahmoud Mausoleum
Islam Khoja Minaret
Toshhovli
Juma Mosque
Allakuli Khan Tim Market
Mohammed Rakhim Khan Madrassah
Kuhna Ark
Kalta Minor Minaret
You will have a great sunset view from Terrassa Cafe on the Kuhna Ark, and from the Kuhna Ark on the whole rest of the city.
In the afternoon of day 4, take the train at 4PM to Bukhara, arriving at 00.15AM.
Where to eat in Khiva
We found options in Khiva quite limited while there (maybe due to reduced activity due to COVID). We ended up eating at our guesthouse once, and split the other meals between
Terrassa Cafe: Uzbek cuisine with a view of Kuhna Ark from the restaurants many terraces.
Khiva Moon: This is also a guesthouse, so make sure to stop by and ask whether you can come for dinner beforehand.
Kafe: We only went for drinks here, so can't speak about the food, but it looked good.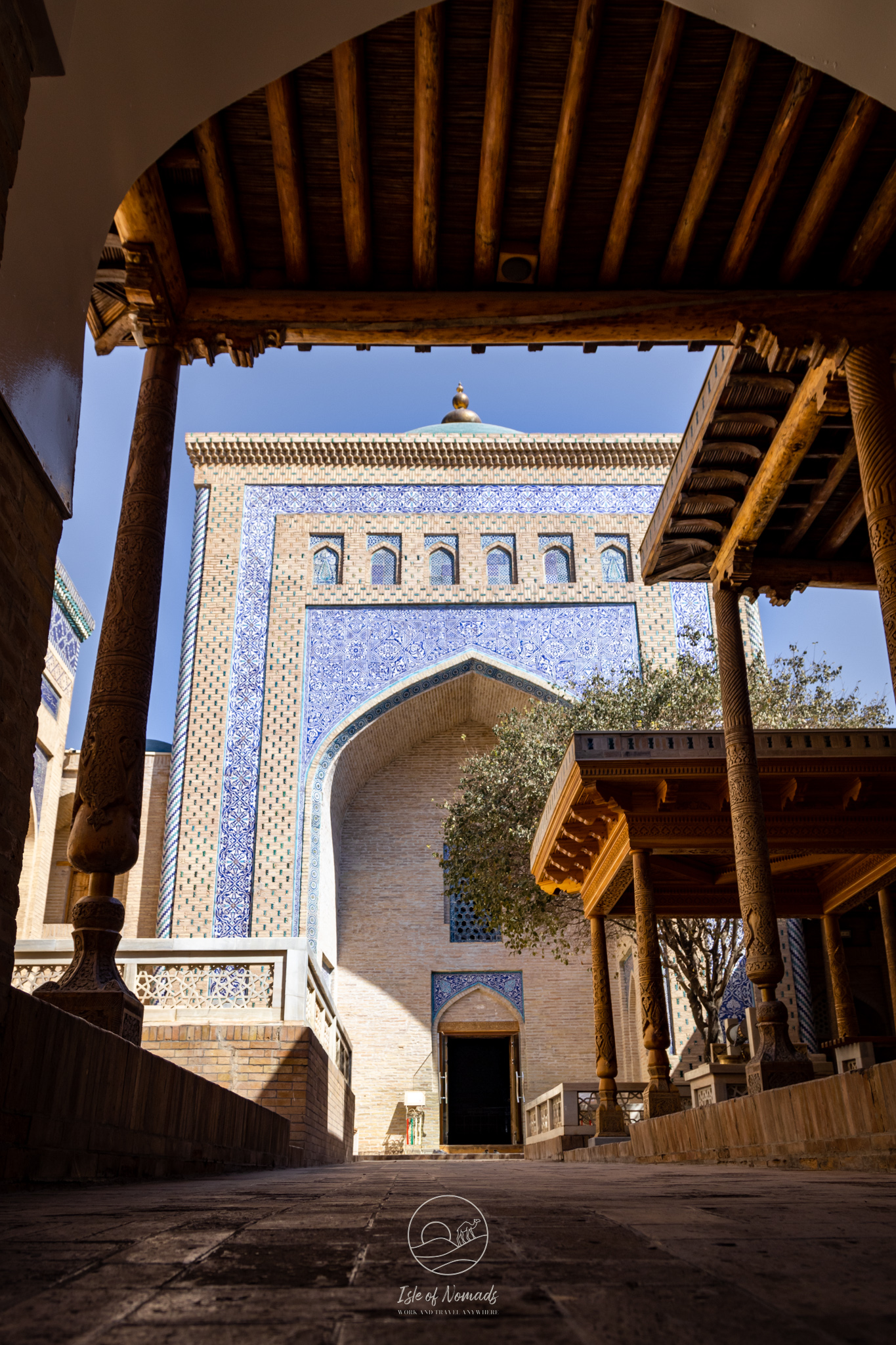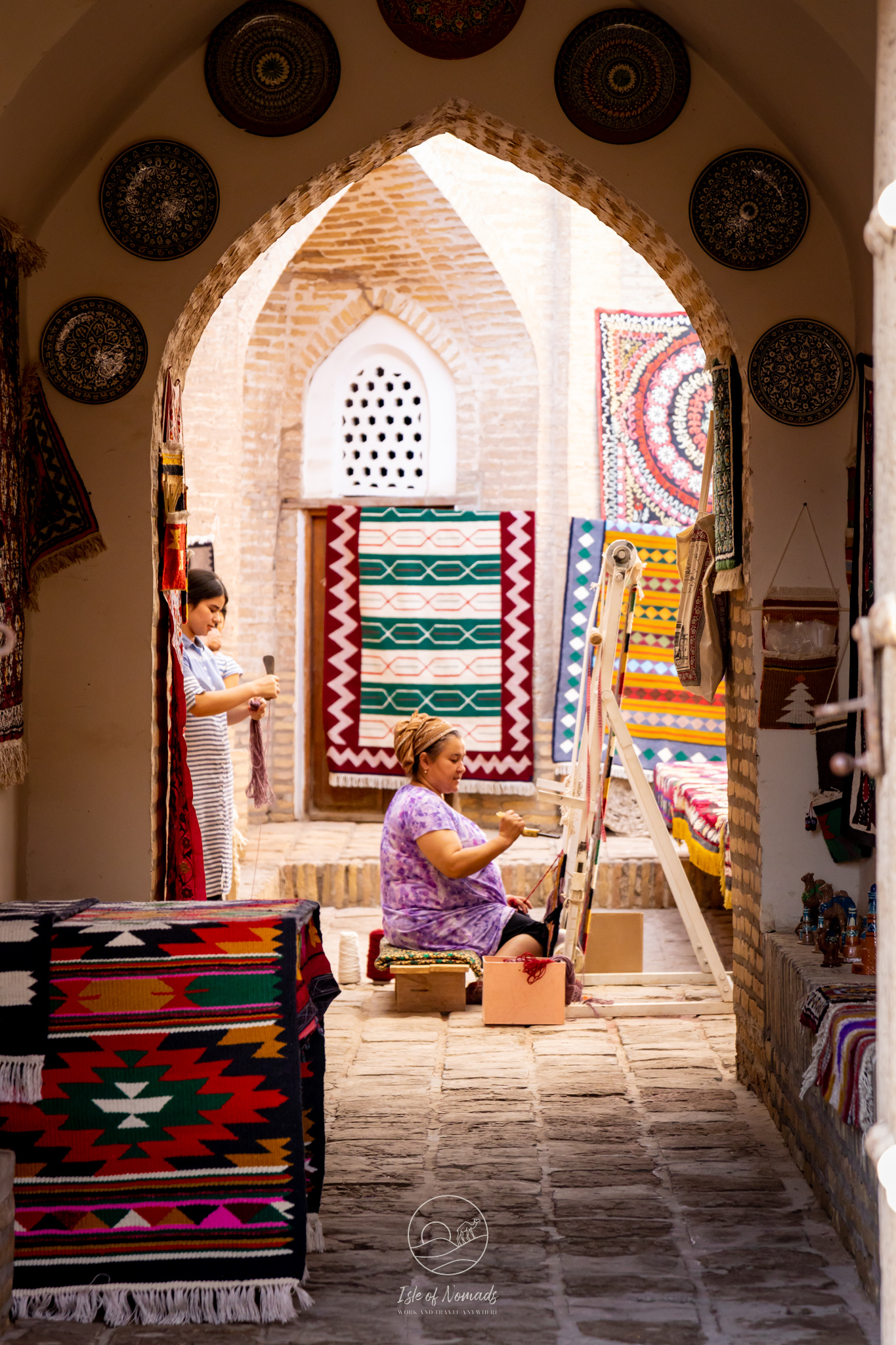 Where to stay in Khiva
Almost all options for staying in Khiva are guesthouses. Here are our recommendations:
Day

5, 6 & 7: Bukhara
What to do
Once you arrive during the night of day 5, head to your hotel to sleep in :-) After a late breakfast, head to Samanid Mausoleum and explore it and the surrounding Samonids Recreation Park. Make your way back to the city center, stopping at Bolo Hauz Mosque, Ark of Bukhara and Ulugbek Madrassa. If you still have time, explore Kalan Mosque, Mir-i-Arab Madrasa and Ulugbek Madrassa.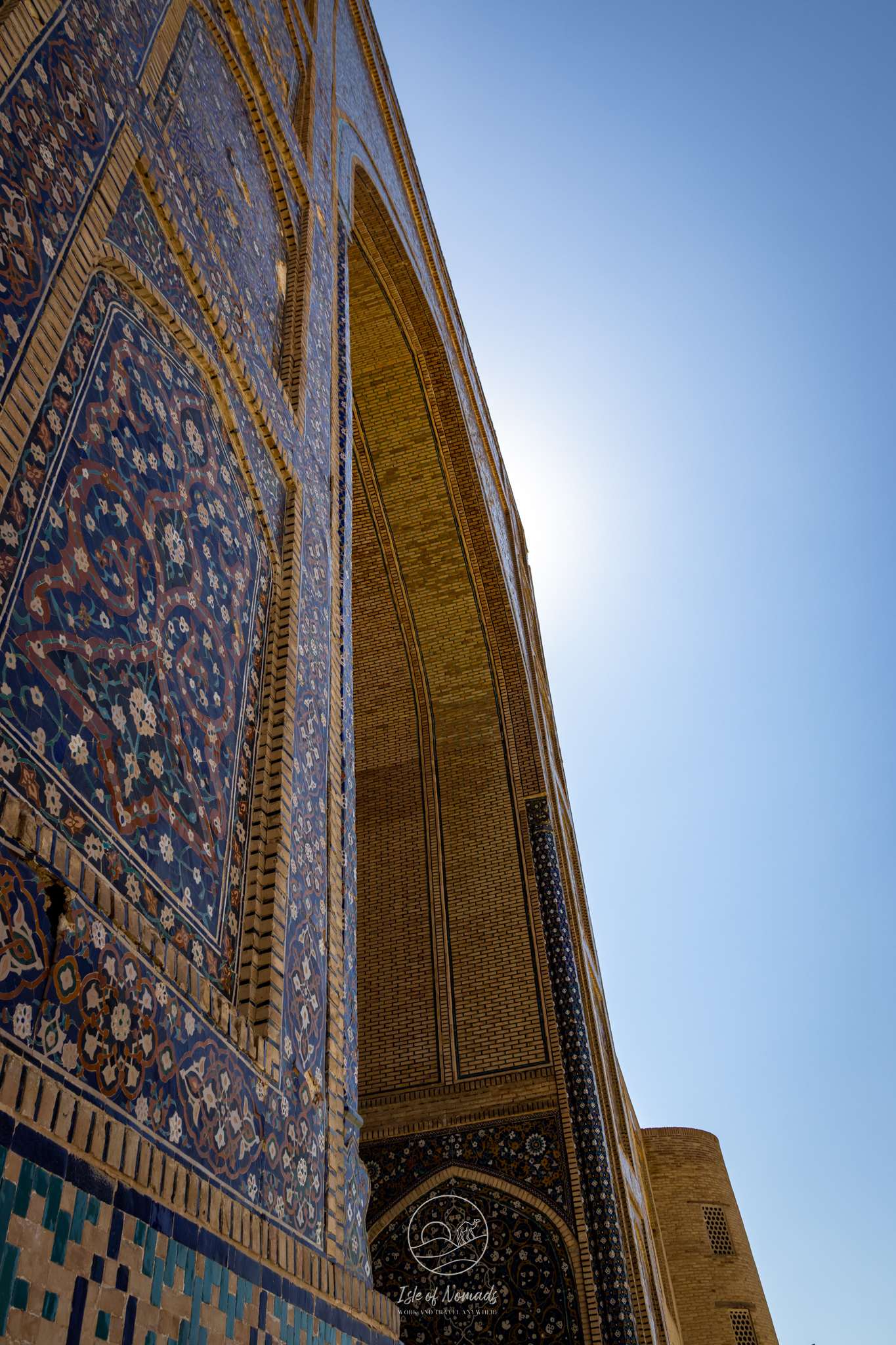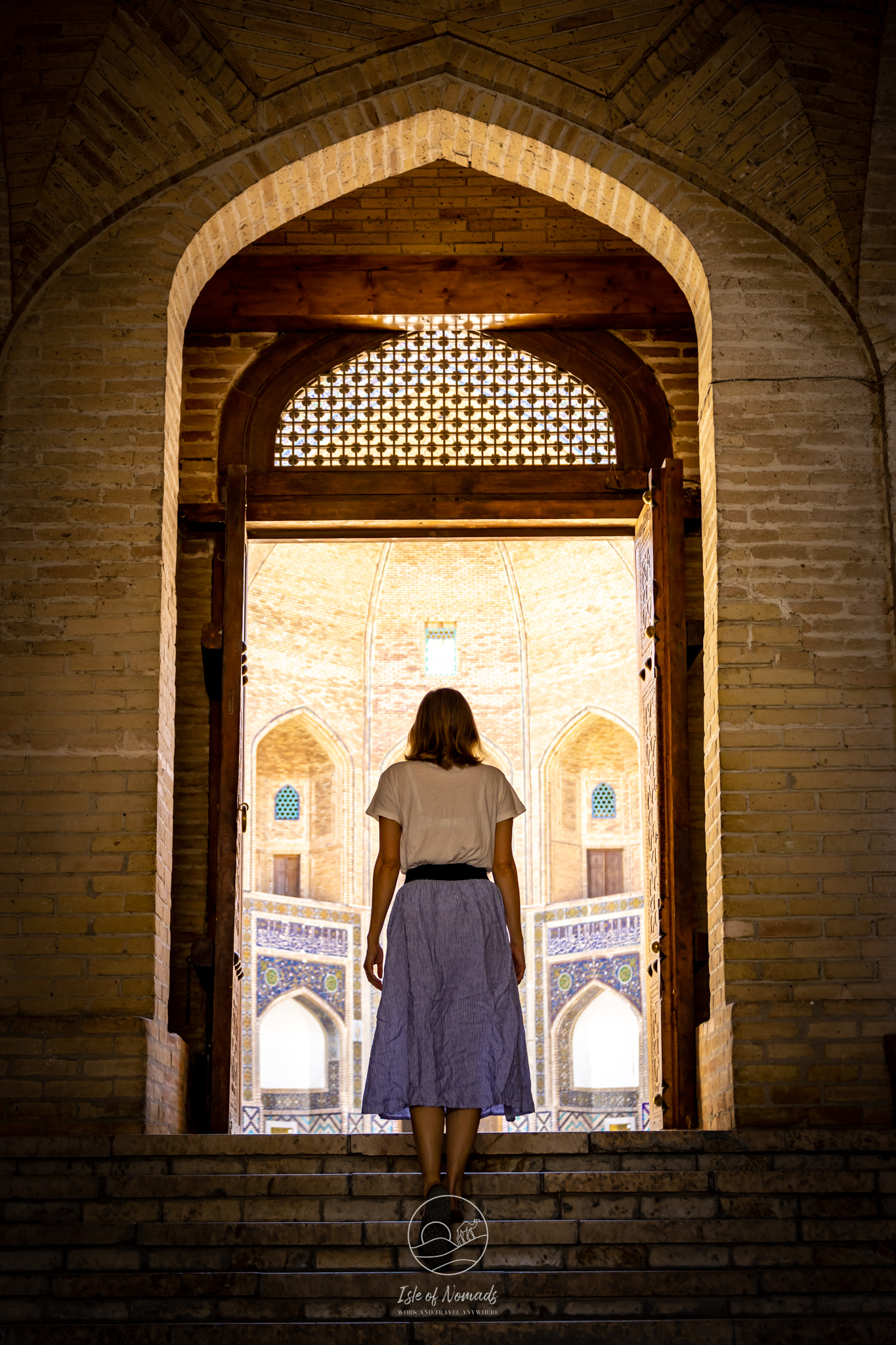 On day 6, get up really early and head to Mir-i-Arab Madrasa for sunrise. Believe me, it's worth it! If you feel tired, stay for a quick nap after your breakfast at your homestay (we did :-D ). Then head out to stroll through the bazaar at Toqi Telpak Furushon - this is a great point to buy some souvenirs!
We found a beautiful hand-stitched silk tablecloth that we absolutely fell in love with - but after thinking it through concluded that even though beautiful, it was simply not practical. You cannot wash the silk stitches, and the tablecloths are usually not meant for usage, but to hang as an artwork. There are also cotton ones that you can wash, but we did not like the designs as much.
Continue exploring the area around Lyabi Khause - make sure not to miss Chor Minor Madrassah and Khoja-Gaukushan Madrasa, before heading to Ayvan restaurant for a delicious dinner.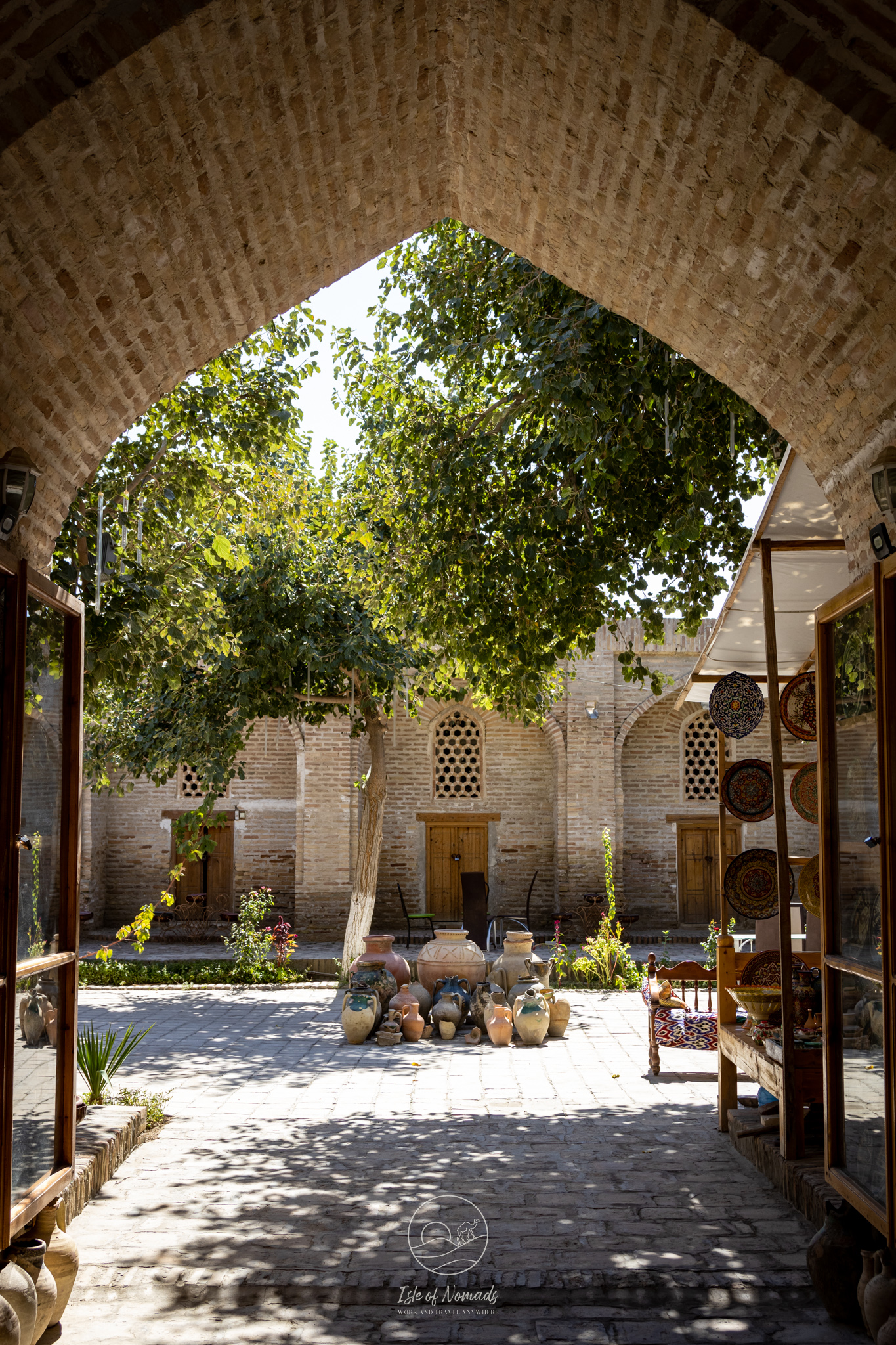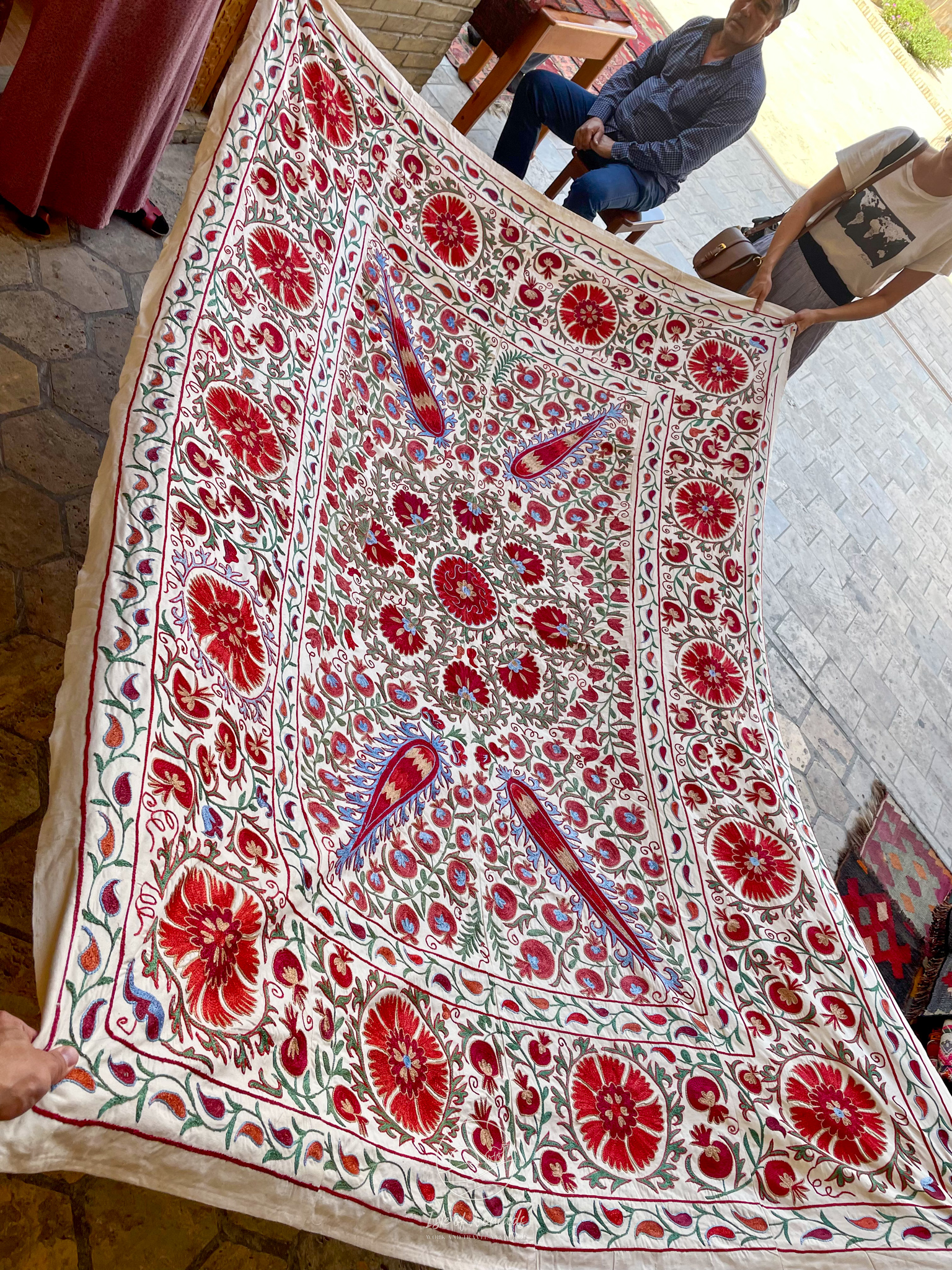 On day 7, after breakfast, do a small excursion to Sitori-i-Mokhi Khosa palace before catching the train to Samarkand in the afternoon (3.20PM). You will arrive in Samarkand at 5PM, giving you plenty of time to check into your hotel and head for dinner.
Where to eat in Bukhara
Ayvan: Whatever you do, don't miss a dinner at Ayvan. It was the best meal we had in our whole trip in Uzbekistan and the restaurant is simply lovely. Ask a bit about the history of the building and the waiter or owner will launch into the fascinating stories associated with it!
Eco Terrace: Decent, down-to-earth food.
Andara: A bit outside of the centre, and a bit on the pricier side, but we enjoyed all the food we had there a lot.
Where to stay in Bukhara
Again, we recommend to stay in the many guesthouses that Bukhara has to offer. Here are our recommendations: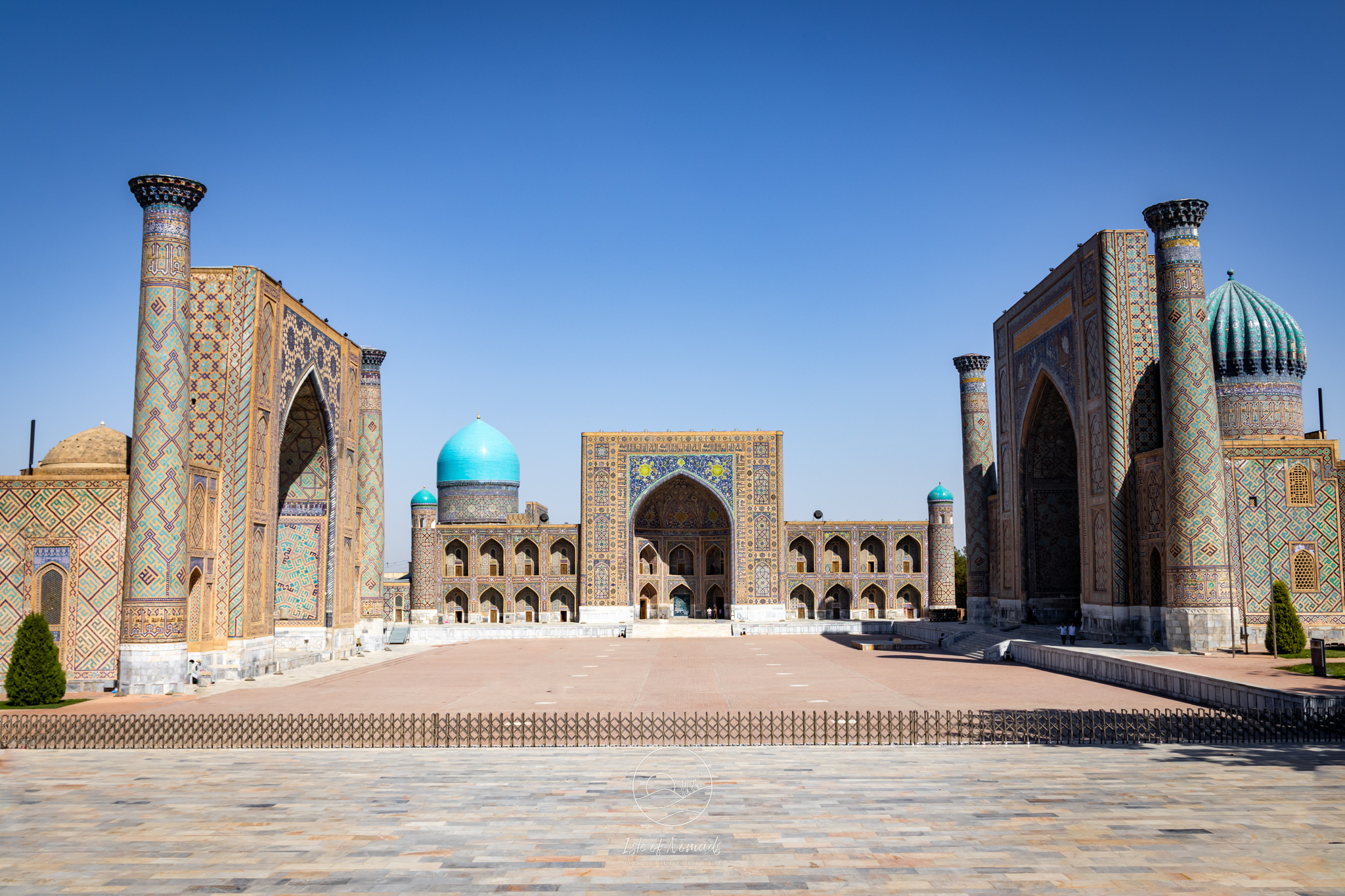 Day

8 & 9: Samarkand

On day 8, get up early to catch the Registan in the morning light and without too many people. Spend your day exploring the main sights of Samarkand - Amir Temur Mausoleum Gur-i Amir Сomplex, Bibi-Khanym Mosque, Hazrat Khizr Mosque and Shah-i-Zinda Ensemble.

After breakfast on day 9, make a trip to the mausoleum of Imam al-Bukhari, located around 30min by car outside of Samarkand. Upon reaching back to the city, browse through the stalls at Siab Bazaar and make sure you visit Happy Bird Art Gallery after - it's a beautiful shop full of antiques and gorgeous clothes. Laura fell in love with a onesie there, but couldn't possibly come up with an occasion on which she would wear it and, alas, did not end up buying it. Let us know in the comments whether that was the right decision :-D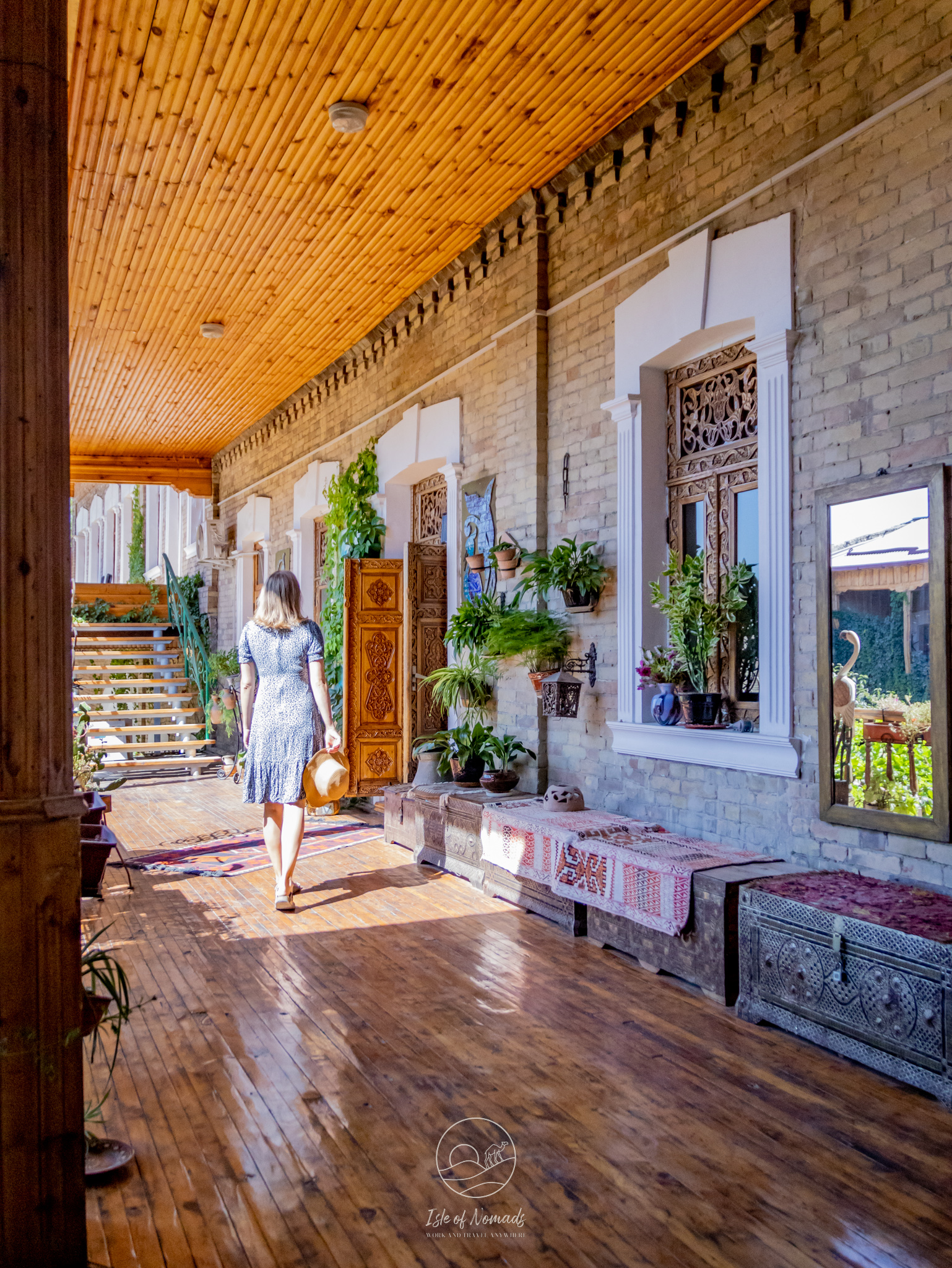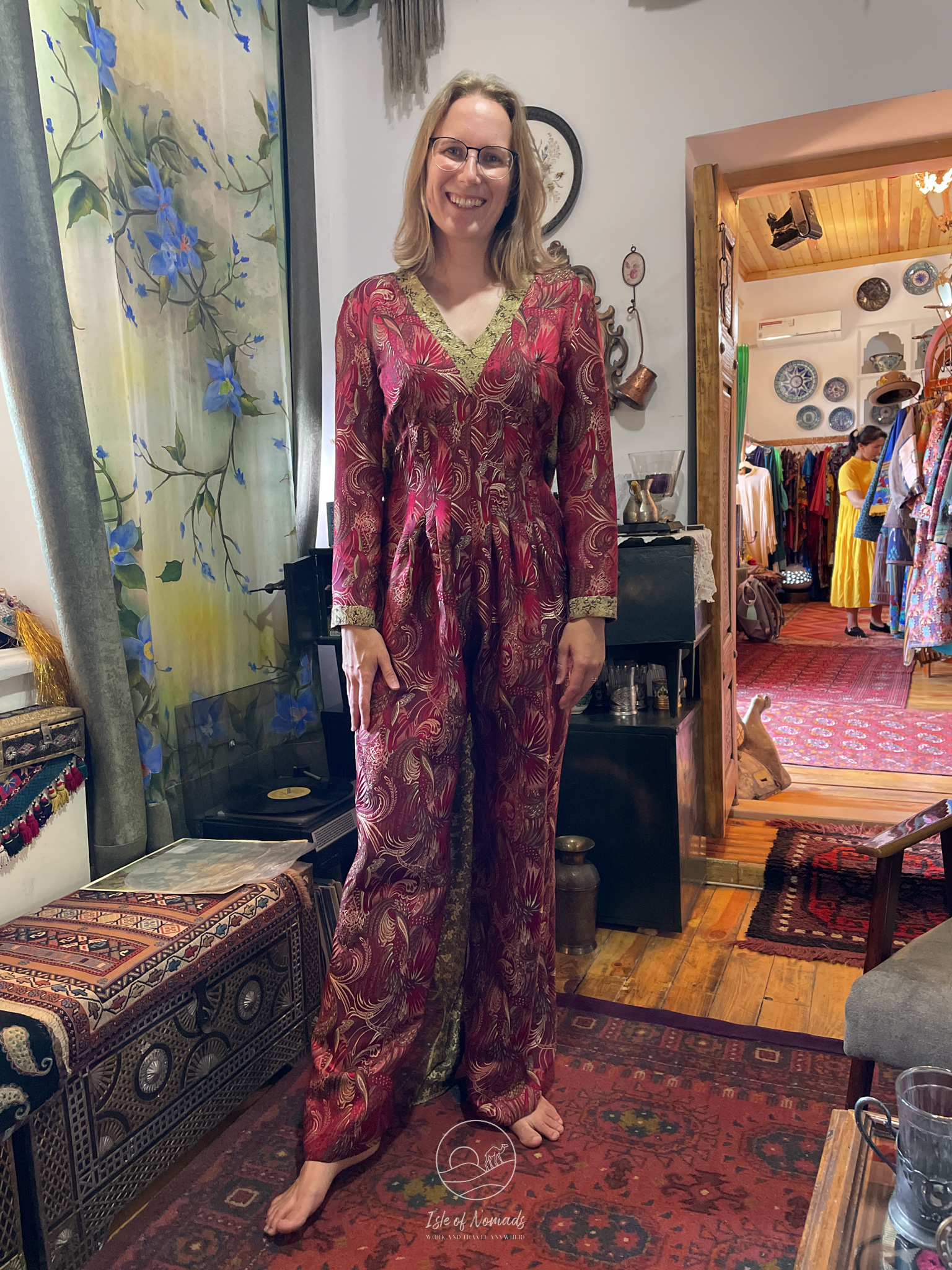 Where to eat in Samarkand
We felt that options in Samarkand for good, local, non-overpriced and non-tourist-trap restaurants was very limited in Samarkand, but that could have been to us travelling right after the COVID lockdown.
Sogdiana Cafe: The food was nothing to write home about, but we ended up eating here twice, as it was not too far from our hotel and the food was decent.
El' Merosi: This was a very cute cafe and we enjoyed our dinner here one evening.
T·Bone Cafe&Bar: Good if you're craving burgers / western food.
Where to stay in Samarkand
Again, we recommend to stay in the many guesthouses that Bukhara has to offer. Here are our recommendations: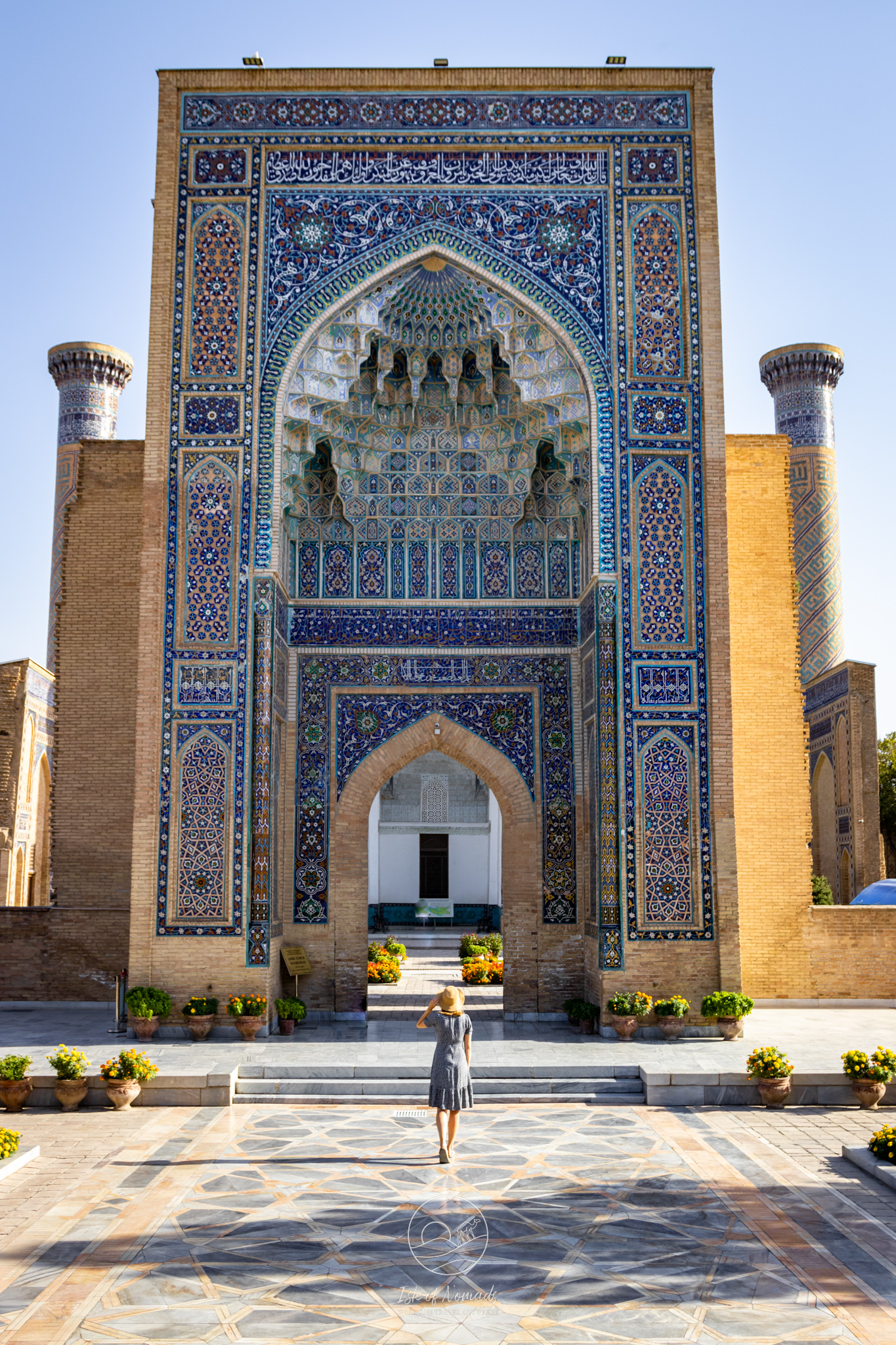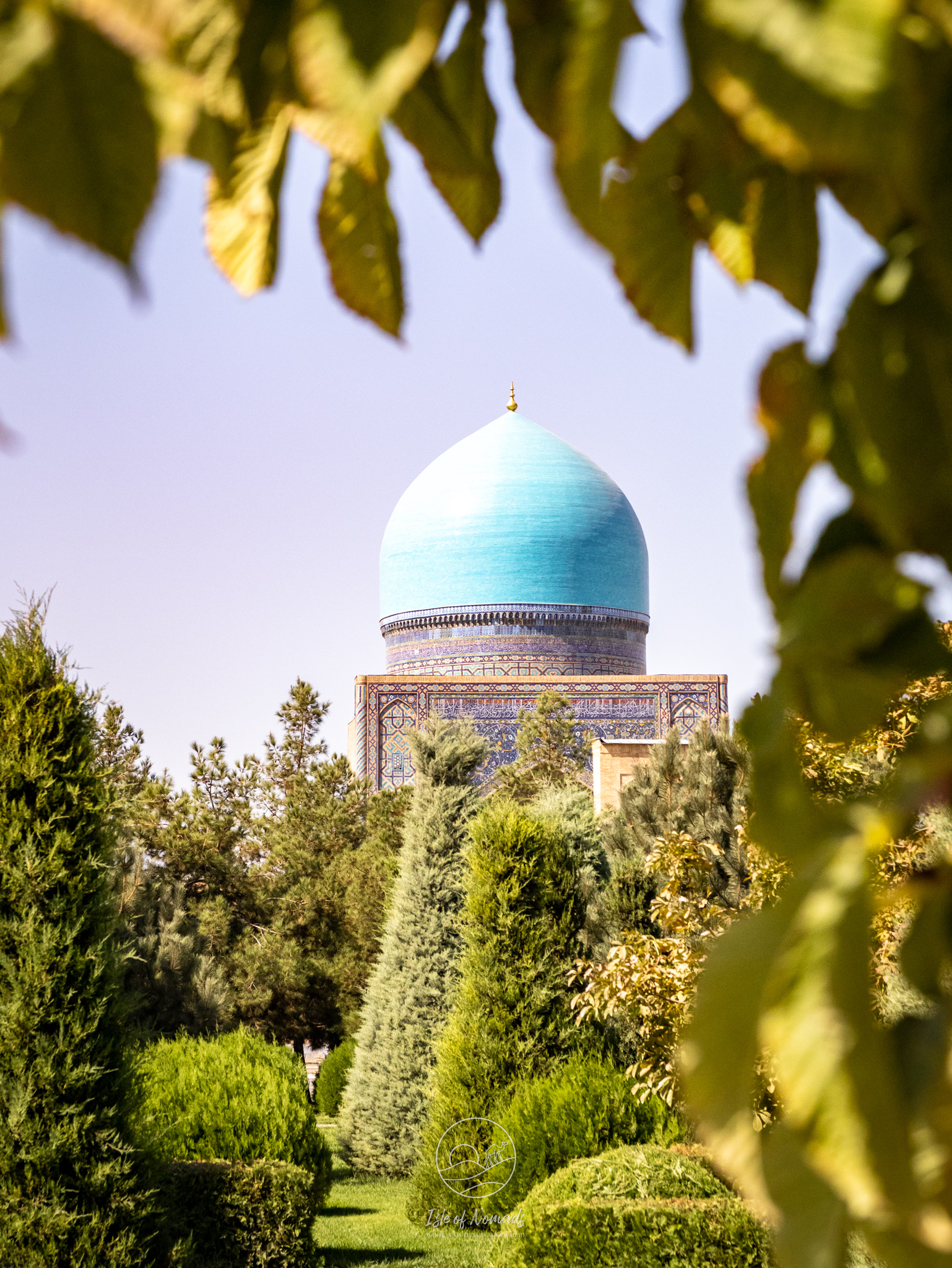 Day

10: Travel back to Tashkent and fly out

On day 10, take the train back to Tashkent and fly out. This will take approximately 1.5h with the fast train, and another 15min by taxi to the airport.
14

day itinerary: Adding Nukus, Aral Sea and two ancient palaces

If you would like to extend your stay in Uzbekistan, you can follow the itinerary above, but instead of traveling to Bukhara from Khiva, stay another night and spend a day trip exploring the ancient palaces of Topraq-Kala and Ayoz qal'a in the Khorzem . Unfortunately, we did not have time to do this but the palaces looks mystical, half covered in sand and half washed away by time. They are more than 2000 years old. For more information on how to visit, you can check this travel blog.

After Khiva, you can continue your journey to Nukus. Spend one day in the city and then another 1-2 days exploring the Aral sea from Nukus.