Everything you need to know about train travel in Uzbekistan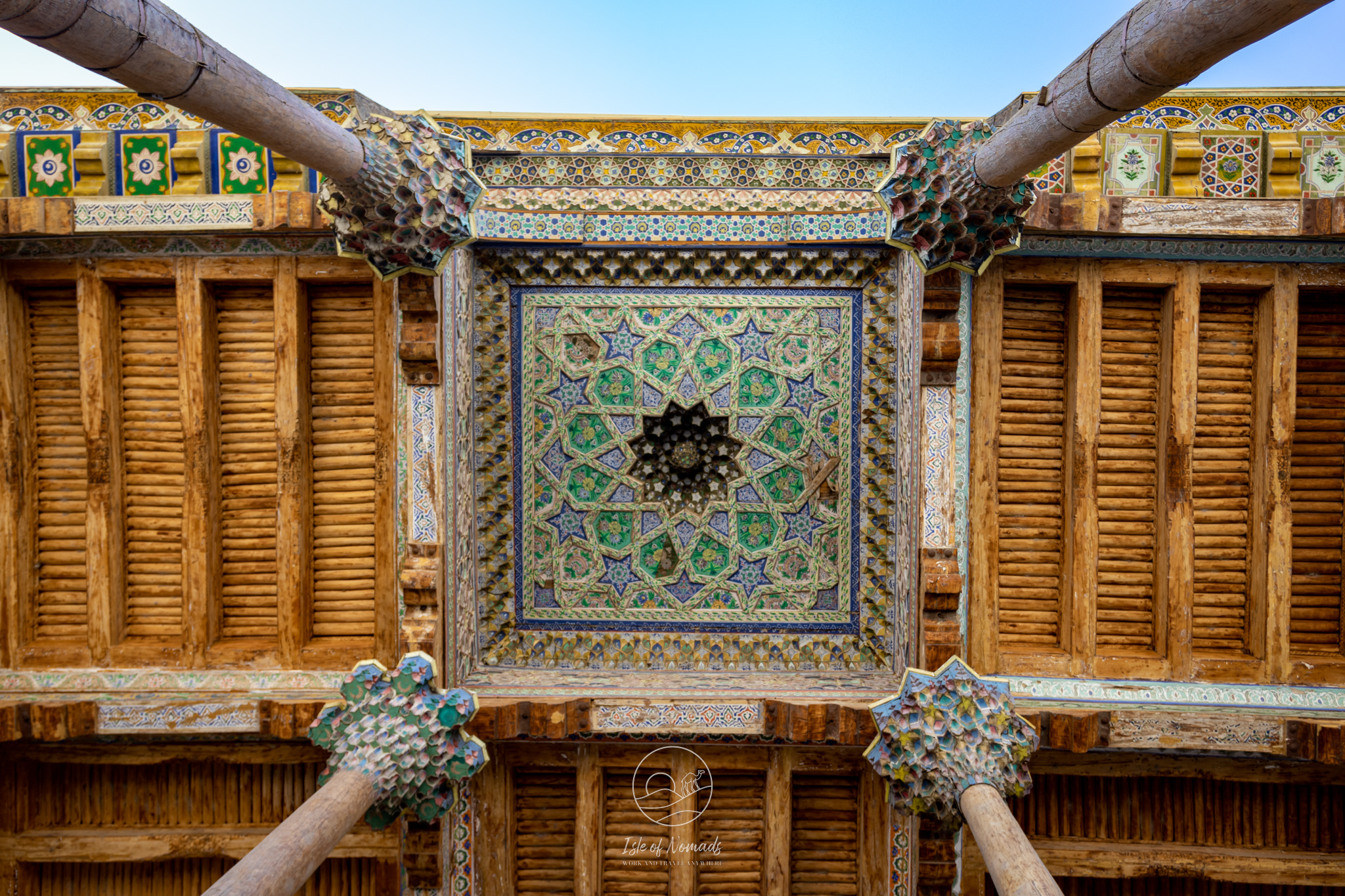 Key information about Uzbekistan at a glance
| | |
| --- | --- |
| Daily budget: | ca. 20-40 EUR/person/day |
| Itinerary length: | 10 - 14 days - check our full itinerary |
| Best time to travel: | Spring (April to May) and autumn (September to end October) |
| Top sights: | Tashkent, Samarkand, Bukhara, Khiva |
| How to get there: | Tashkent has regular flights to Europe and other parts of Asia. For instance, there is a direct flight from Frankfurt to Tashkent. |
When I tried finding accounts of what train travel was like in Uzbekistan before actually visiting the country, I was surprised how little there was, especially on the overnight trains, amenities provided, security, and cleanliness. This article is to remedy that - do reach out if you have any questions that are not covered here, though!
How

to get from city to city in Uzbekistan

Even though you could theoretically hire a car and a driver, the answer to this question is fairly simple - the fastest and most comfortable way to get from one beautiful city to another in Uzbekistan is by train. However, when I first looked into it and saw that the train rides were really long and some of them during the night I wanted to know all about what type of ticket to book, what the trains looked like and what to take on the 18 hour train ride from Tashkent to Khiva.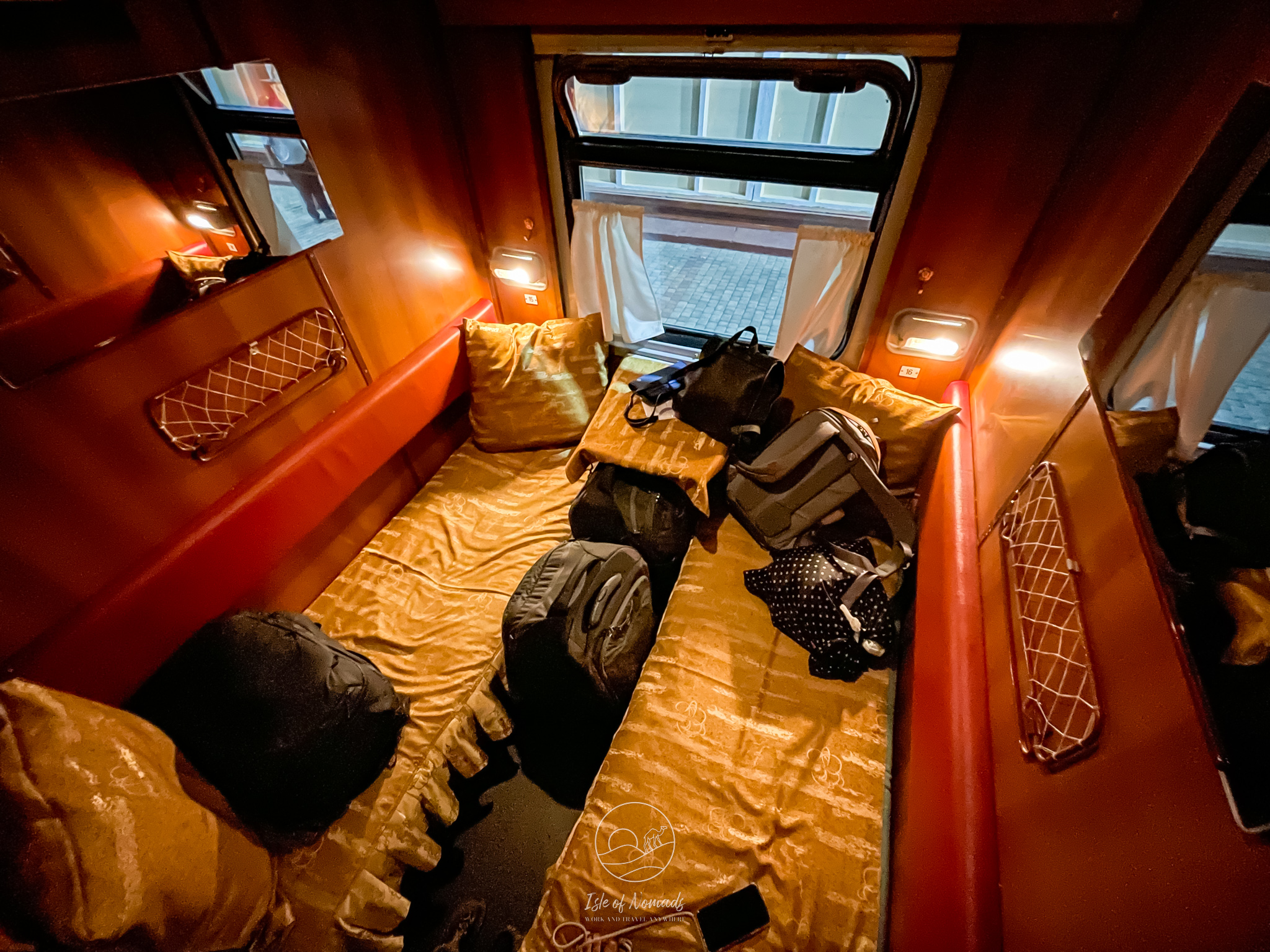 What

are trains like in Uzbekistan?

I don't know why, but when researching our trip, I couldn't find the answer to this anywhere on the internet. So let me give it to you here:

All trains come in two or three classes. The price difference is not very large between the different classes, so we always opted for first class. I think in the new high-speed trains it really does not matter as the difference is not that significant, but if you'd like to have a private compartment (for two people) in the sleeper trains, you need to book first class. If you'd like to see what third class looks like, have a look at this video.

There are different types of trains in Uzbekistan. High-speed trains are in operation between Tashkent, Samarkand and Bukhara. If you book a train on the Uzbekistan railways website you will straight away see which trains are the high-speed trains and which aren't. They are not only super fast, but also super modern, come with AC and a complimentary meal and drinks (in first class). The seats cannot be turned into beds and these trains are not used for long overnight journeys.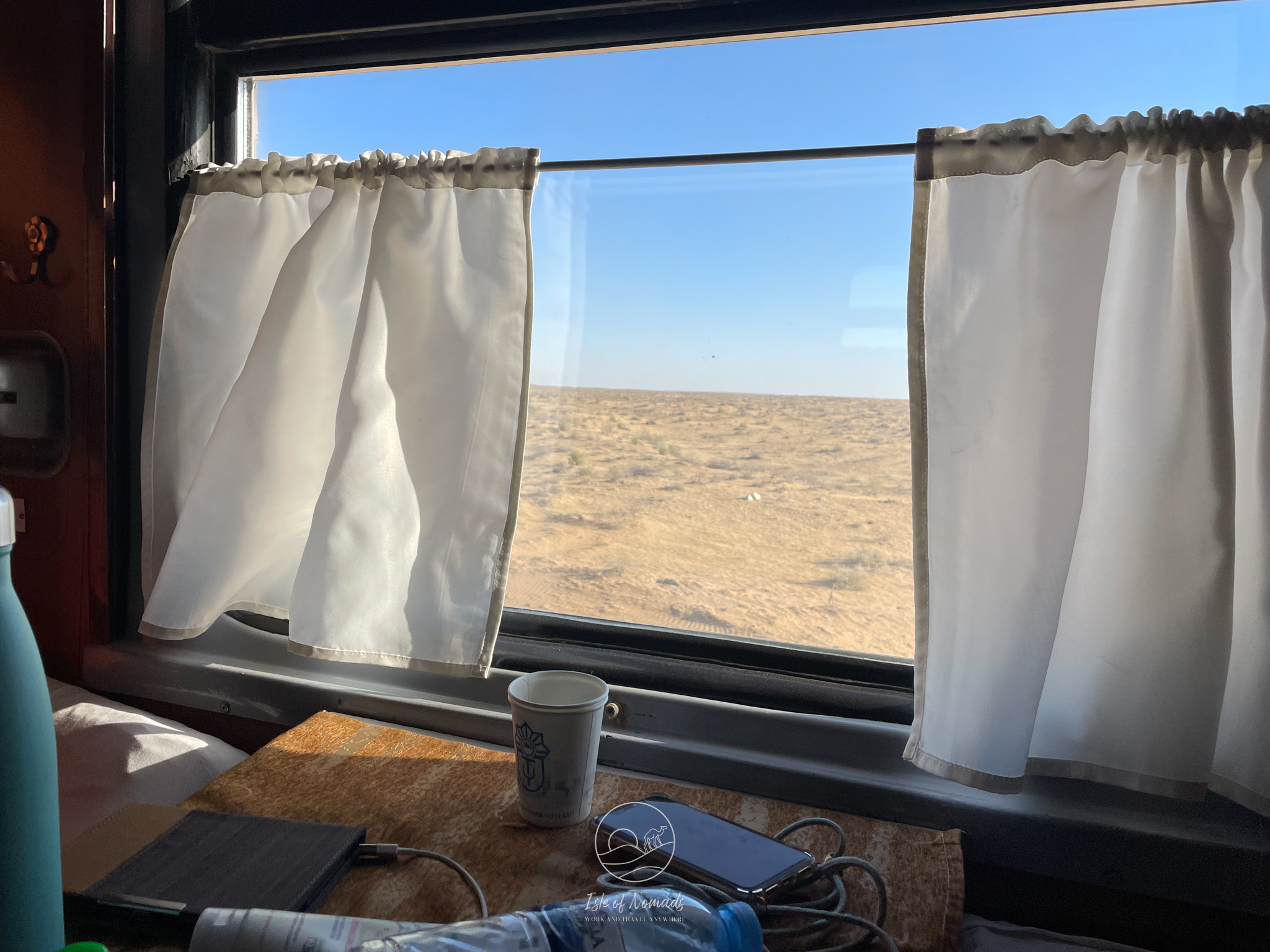 Normal trains are also super comfortable, but the difference between the three classes is more pronounced, especially if you are looking for a private compartment and are travelling overnight. The seats can be turned into beds for longer overnight journeys. Our experience travelling overnight from Tashkent to Khiva was very positive - the sheets are handed out in plastic wrapping, are really clean and the beds are comfortable.
The only thing was that the AC was not really working both times we were traveling with the trains. We tried to open the window, but that resulted in a lot of desert dust being blown into the compartment so we quickly closed it again. In September, it was really hot, but bearable during the night. If you are sensitive to heat make sure to bring a lot of cooling drinks (or buy them, see below) and something like a small electric or folding fan.
In both the high speed and the normal trains you have vendors passing regularly that sell small snacks and soft drinks. In first class, you even get a full meal, however as we had brought our own food and had made bad experiences with train food before we didn't try it.
How

to book your train tickets

We recommend that you book your tickets in advance via the website of Uzbekistan railways. We've read in the past that people have had problems with the booking process, but these issues seem to have been fixed and it worked great for us. If you still have issues, you can buy tickets at all train stations across the country. To book, you need a credit card.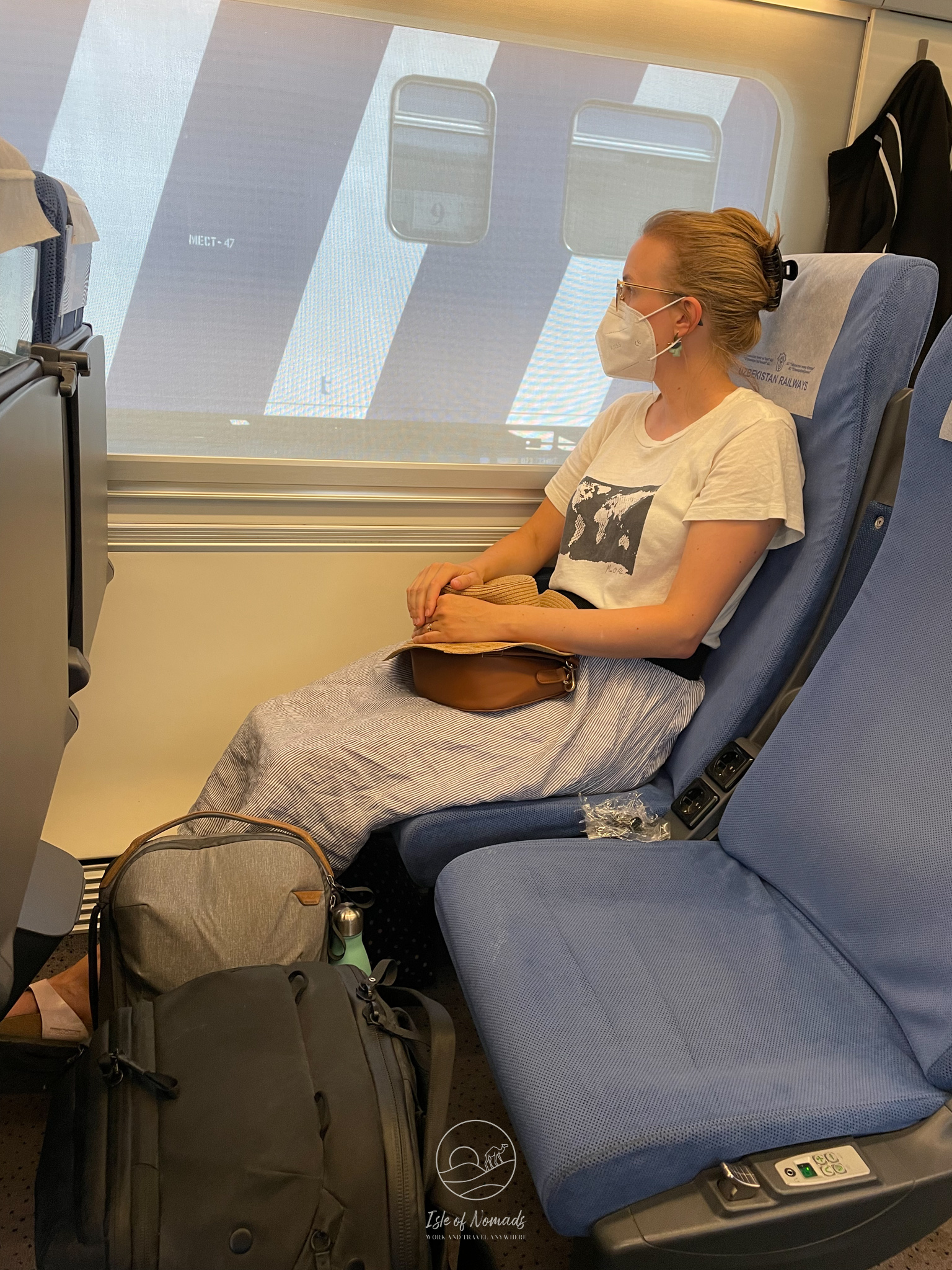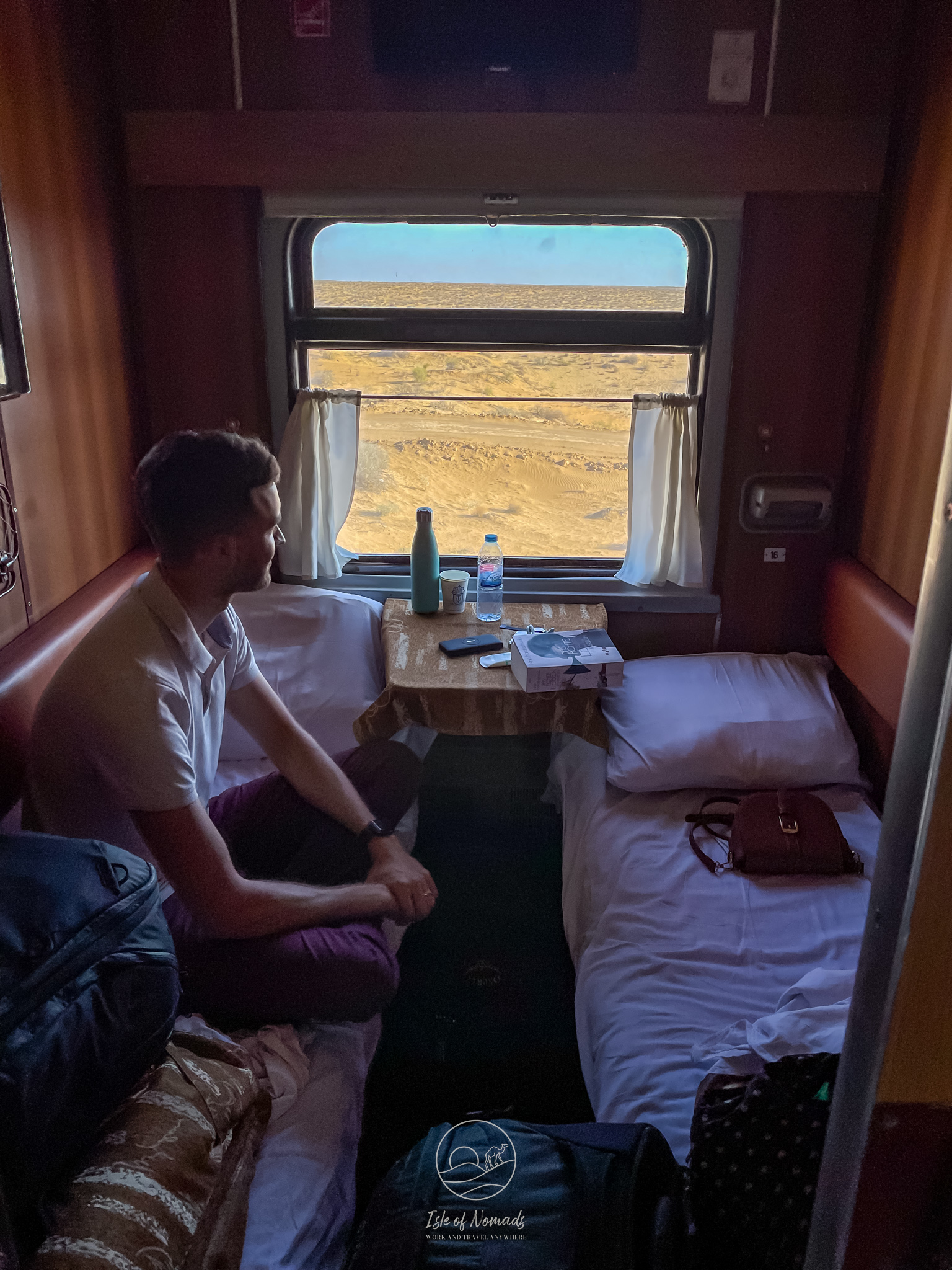 If you are not flexible with your itinerary, would like to book first class and have specific dates and times in mind that you would like to catch your train on, it is advisable to book in advance. We booked three weeks before travelling and had to change one of the trains we had originally planned on taking - that being said, the high speed train tickets book out faster than the other train types.
The prices are very reasonable - you can get from Tashkent to Khiva in the night train (14 hoour journey) on first class for 35 EUR, the high speed train from Samarkand to Tashkent for 17EUR in first, 10EUR in second class.
At

the train station

Get to the train station at least 30min before the departure of your train. To enter train stations in Uzbekistan, you need to pass a security check similar to the ones at the airport. When it is really busy, these checks can take quite some time and there might be a queue. If it's not busy they might only take a few minutes though.

Make sure you print your tickets - you will be required to show them to the security personel to be able to access the station. They will also want to see your passport. Inside the train, your tickets will be collected by the train staff and, if you are travelling in a sleeper train, you will receive your bedding and cushion in exchange for your ticket.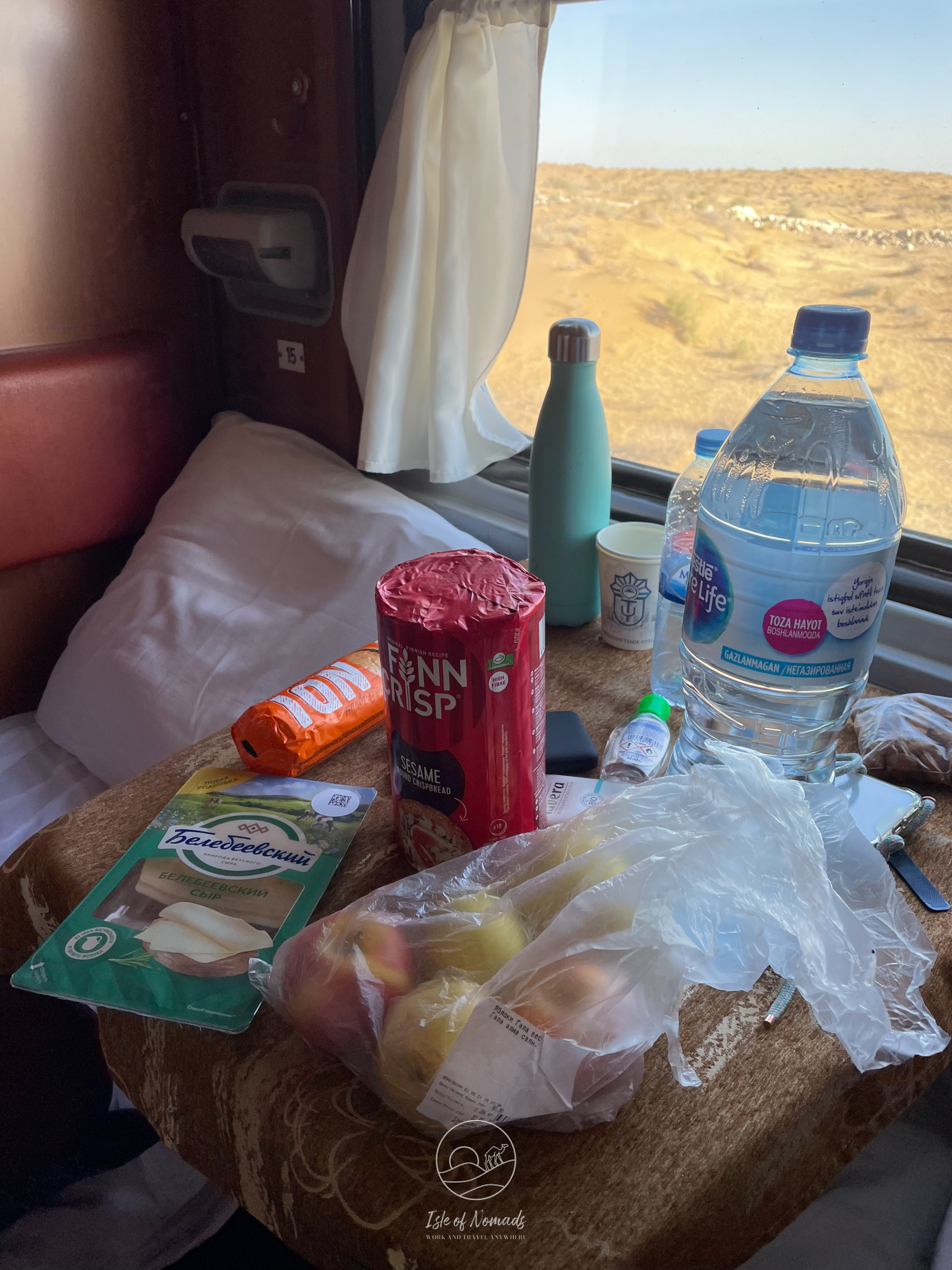 Preparing

for the journey and in the train

For the overnight train to Khiva, we packed two big bottles of water, a few snacks and our light cotton sleeping bags. All of that would not really have been necessary. You can buy water and other drinks on the train (usually right in the beginning of the journey a person passes that offers drinks). I was thankful for the snacks though, as I was a bit suspicious of the food we got offered. We had packed the sleeping bags in case there would not be bedding / it would not be too clean, but the linens you receive are freshly washed and shrink-packed in plastic bags. (We imagined the trains to look something like the ones we had taken in India, but that was not the case at all, it was very clean and quite comfortable.)

All trains we boarded always had the possibility to buy food and drinks at various instances. In first class, there is often a meal included - we were offered this in both the night train to Khiva and the fast train to Tashkent. As we had brought our own food (and my stomach is very sensitive in general), I declined both times, but on the fast train to Tashkent, Cordt gave the food a go. It was not particularly tasty, but he also did not get any stomach problems after.

There are toilets on the train, of course. They are not the greatest and of course their state deterioates over time, but that being said they were also not the worst toilets I have ever used.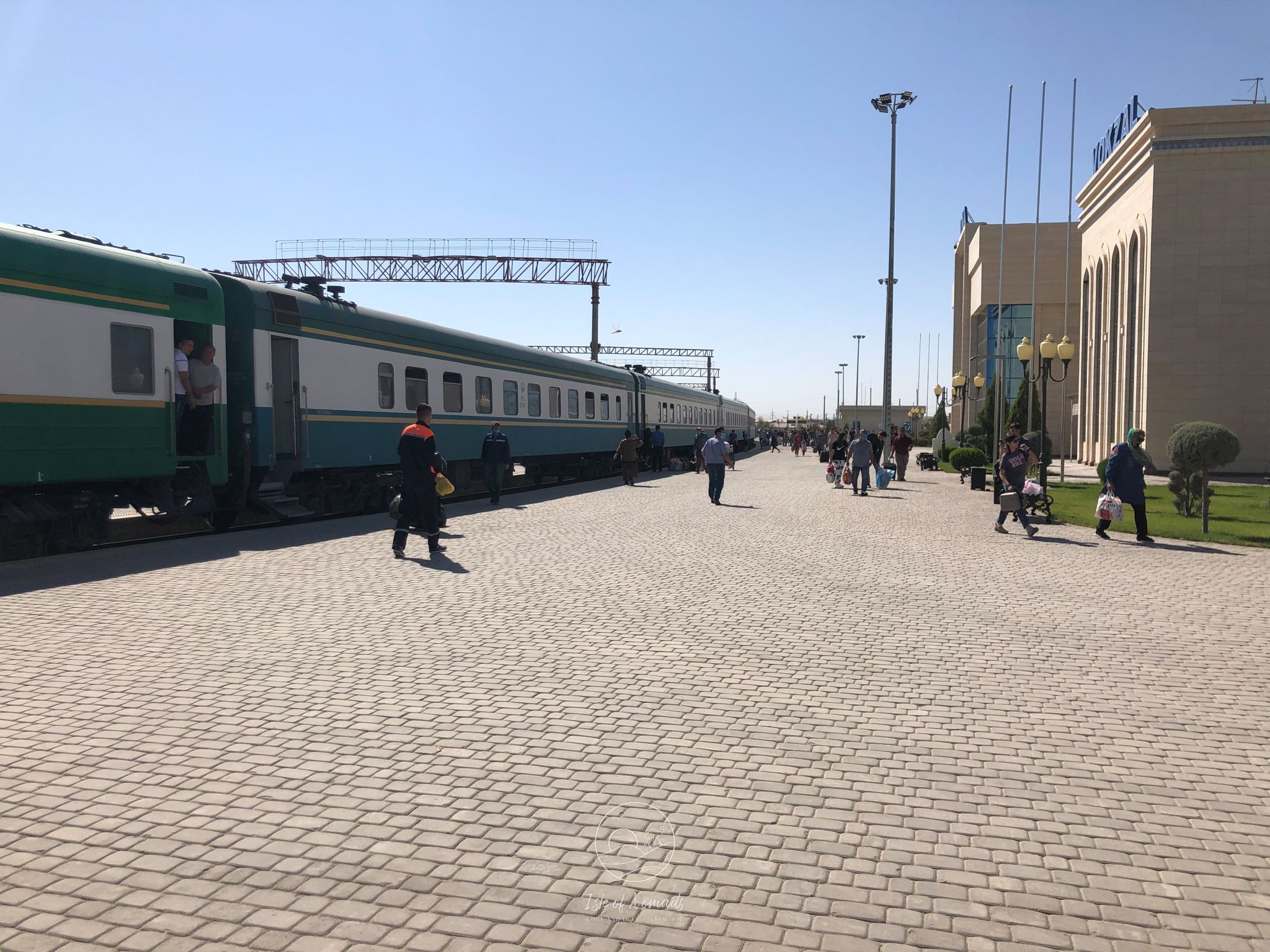 Arriving

at your destination and onward travel

Usually, Uzbek train stations are a bit outside of the cities and you will need to catch a taxi to go to the city centre and / or your hotel. We tried to use Yandex as much as possible and it worked well in Tashkent and Samarkand. I heard that they are extending services to other cities in Uzbekistan, but when we were there the app did not work in Bukhara nor Khiva.

To be on the safe side, we contacted our guesthouses a few days in advance and asked them to arrange a taxi to come pick us up at the train station. This is highly recommended, especially if you arrive during the night.